"Dearest CEOforLIFE,
I am honored to acknowledge Your commitment to sustainability inspired by SDGs, with the CEOforLIFE Award 2021.

Being CEOforLIFE motivates everyone to make these values the engine of our action, and I hope that this will be the beginning of a path together in which we will be at the forefront of supporting a business culture that puts the focus on people, in order to build a real growth and a "good" development".
THURSDAY & FRIDAY March 18/19 2021
Carlo Tamburi Enel Italia
Maximo Ibarra Sky Italia
Maria Bianca Farina ANIA & Fondazione ANIA
Giovanni Malagò Coni
Enrico Cereda IBM EMEA & IBM Italia
Paola Corna Pellegrini Allianz Partners Italia
Ernesto Mauri Gruppo Mondadori
Annika Farin Amrop
Enrico Giovannini Ministero
delle Infrastrutture e della Mobilità Sostenibili
Fabrizio Gavelli Danone
Specialized Nutrition South Europe & Fondazione Istituto Danone Italia
Massimo Falcioni Etihad Credit Insurance
Tiziana Mele Lundbeck Italia
Agostino Santoni Cisco
Mauro Caruccio Toyota Financial Services Italia & Toyota Fleet Mobility Italia
Pietro Cum Elis
Kristin Engvig WIN & WINConference
Massimiliano Montefusco RDS- Radio Dimensione Suono
Giacomo Cortesi Richemont & Serapian
Giuseppina Di Foggia Nokia Italy
Paolo Boccardelli Scuola Politica, Luiss Business School
Andrea Quacivi Sogei
Giuseppe Gola Acea
Riccardo Di Stefano Giovani di Confindustria
Paolo Compostella APCO Worldwide
Stefano Venturi Hewlett Packard Italia
Alberto Chiarini Eni gas e luce
Francesca di Carrobio Hermès Italia





Maurizio de Cicco Roche
Riccardo Barberis ManpowerGroup Italia
Pierre Cordier Groupama Assicurazioni
Stefano Venier Gruppo HERA
Fabio Giuliani BOSCH Italy & Greece
Enrico Galasso Birra Peroni
Daniele Di Fausto eFM
Marcello Cattani Sanofi
Luca Palermo Fiera Milano
Marilù Guglielmini Fondazione Libellula
Roberto Giacchi Italiaonline
Massimiliano Bianco Iren
Barbara Cominelli Jones Lang LaSalle SpA
Paolo Penati QVC
Antonio Turroni Covisian
Simeone di Cagno Abbrescia Acquedotto Pugliese
Gianluca Soma Société Générale


08:30
WEB REGISTRATION
(The registration will be valid for the Marathon on Thursday and Friday 18th/19th and for the Project Meetings Awards Saturday 20th)
09:30
CEOforLIFE Awards
SDGs MARATHON
Carlo Tamburi
CEO & President
Enel Italia
Maximo Ibarra
CEO
Sky Italia
Maria Bianca Farina
President
ANIA &
FONDAZIONE ANIA


Giovanni Malagò
President
CONI


Enrico Cereda
General Manager Technology
IBM EMEA &
Presidente
IBM Italia
Paola Corna Pellegrini
CEO
Allianz Partners Italia
Ernesto Mauri
CEO
Gruppo Mondadori
Alberto Chiarini
CEO
Eni gas e luce
Enrico Giovannini
Ministro
delle Infrastrutture e della Mobilità Sostenibili
Fabrizio Gavelli
General Manager
Danone Specialized Nutrition South Europe
President
Fondazione Istituto Danone
Massimo Falcioni
CEO
Etihad Credit Insurance (ECI)
Tiziana Mele
Managing Director
Lundbeck Italia
Mauro Caruccio
CEO
Toyota Financial Services Italia
Chairman & CEO
Toyota Fleet Mobility Italia
Kristin Engvig
Founder & CEO
WIN & WINConference
Massimiliano Montefusco
General Manager
RDS- Radio Dimensione Suono
Giacomo Cortesi
CEO
Serapian
Managing Director
Pelletteria Richemont
Giuseppina Di Foggia
CEO & Vice President
Nokia Italia SPA
Paolo Boccardelli
Presidente Supervisory Board Scuola Politica Dean Luiss Business School
Riccardo Di Stefano
President
Giovani Imprenditori di CONFINDUSTRIA
Stefano Venturi
Presidente e Amministratore Delegato
Hewlett Packard Enterprise Italia
Annika Farin
Global Chair
Amrop



Maurizio de Cicco
President & CEO
Roche
Riccardo Barberis
Amministratore Delegato
ManpowerGroup Italia
Presidente Fondazione
Human Age Institute


Pierre Cordier
CEO & General Manager
Groupama Assicurazioni
Stefano Venier
CEO
Gruppo HERA
Fabio Giuliani
General Manager
Bosch Italy & Greece
Enrico Galasso
President & Managing Director
Birra Peroni
Marcello Cattani
President & Managing Director
Sanofi Italy & Malta
Luca Palermo
Group CEO
Fiera Milano
Agostino Santoni
Vice Presidente Sud Europa
Cisco
Marilù Guglielmini
Board Member
Fondazione Libellula
Roberto Giacchi
CEO
Italiaonline
Antonio Turroni
CEO
Covisian
Simeone di Cagno Abbrescia
President
Acquedotto Pugliese
Massimiliano Bianco
CEO
Iren
Barbara Cominelli
CEO Italy
Jones Lang LaSalle SpA
Francesca Di Carrobio
CEO
Hermès Italia
Gianluca Soma
Head of International Retail Banking for Europe & Group Country Head for Russia
Société Générale
Paolo Compostella
Managing Director
APCO Worldwide
Paolo Penati
CEO
QVC Italia


CEOforLIFE Testimonials & Opinion Leaders
Sergio Luciano
Direttore
Economy
Marzia Roncacci
Giornalista e Conduttrice
RAI TG2
Giuseppe De Bellis
Direttore
Sky TG24
Virginia Saba
Giornalista televisiva
Massimiliano Lenzi
Giornalista "Il Tempo"
Scrittore e Autore televisivo
Jacopo Volpi
Giornalista
RAI
Giacomo Moletto
CEO
Hearst Italia & Western Europe



Davide Casaleggio
CEO
Casaleggio Associati
Francesca Chialà
TED Speaker, Business Coach, Executive Trainer & DocuFilm Director
Maria Elena Capitanio
Direttore
Le Cahier
10:00 - 11:30
CEOforLIFE Awards/ SDGs Forum


Pierluigi Stefanini
Presidente
Gruppo Unipol
Presidente
ASviS
Paola Corna Pellegrini
President
AICEO
Kristin Engvig
Founder & CEO
WIN & WINConference
WIN - Women's International Networking - is a leadership organization, based in Lausanne. Founded in 1997 in Milan by Norwegian social entrepreneur and pioneer Kristin Engvig, WIN has pioneered a revolutionary new way of doing business by adopting a holistic approach.
CEOforLIFE Speakers | WINCONFERENCE SDGs FORUM
Tiziana Mele
Managing Director
Lundbeck Italia
Claudia Pievani
CEO
MioMojo
Tiziana Catarci
Direttrice Dipartimento ingegneria informatica Università La Sapienza
Simona Scarpaleggia
CEO
Edge
Gabrielle Kluck
Head of Ombudsmann
World Food Programme
Antonella Santuccione
Head Stakeholder
Liaison Alzheimer's disease Biogen
Morena Pivetti
Journalist
Fortune Italia
Annika Farin
Global Chair
Amrop
Founded in 2016, The Italian Alliance for Sustainable Development (ASviS) promote a culture of sustainability among institutions, businesses, civil society, enhancing the opportunities for Italy related to the Agenda for Sustainable Development. The Alliance contributes to the definition of an Italian SDGs strategy and to track the progress of Italy in this field. The organization currently brings together more than 270 of the most important institutions and networks of civil society.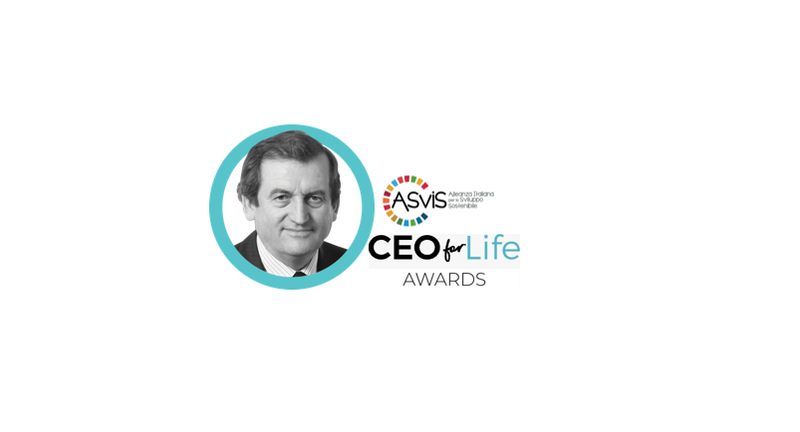 CEOforLIFE Speakers | AsVis Forum
Pierluigi Stefanini
Presidente ASviS
& Presidente Gruppo Unipol
Modera:
Sergio Luciano
Direttore
Economy
Valentina Bosetti
Presidente
Terna
Maura Latini
Amministratore Delegato
Coop Italia
From 2011, The Italian Association of CEOs (AICEO) boosts the sharing of best practices and experiences through the CEO members projects on the most strategical fields for the Italian development: work and training; digitalization and innovation; inclusion; sustainability; health; tourism.
CEOforLIFE Speakers | AICEO Forum
Modera:
Marcello Zacché
Caporedattore delle pagine economiche e finanziarie
Il Giornale
Elena David
ex Presidente
AICEO
Marco Icardi
CEO
Metricstream
Francesca Contardi
CEO
EasyHunters
Josef Nierling
Amministratore Delegato
Porsche Consulting Italia
Paolo Gibello
Chairmain
Fondazione Deloitte
The Young Entrepreneurs Movement has about 13,000 members.Young, because they are between the ages of 18 and 40. Entrepreneurs, because in order to join, it is necessary to have management responsibilities in companies registered with the territorial associations belonging to Confindustria. The free market, equality of opportunity, innovation, transparency, are the founding values. The creation of new opportunities for new generations, the support to the competitiveness of Italian companies, the development of the social welfare of the country through a far-sighted industrial policy are the objectives.
eFM helps organizations bring Human Resources, Real Estate and Technology resources together to create Engaging Places designed to attract and retain top talent and improve workplace wellness, utilization and productivity. We now live at the intersection of the physical and digital worlds where we must cooperate, learn and grow. To prosper in this new reality, we need to find new ways to design, manage and live within the places where we work, learn, heal and even shop. eFM has developed a holistic design approach able to support the development of engaging places which integrate space, technology and people in harmony.
CEOforLIFE Speakers | eFM SDGs FORUM
Monica Parrella
Spokesperson
Most Powerful Women Italia
Mauro Caruccio
Managing Director
Toyota Financial Services Italia
President & Managing Director
Toyota Fleet Mobility Italia
Fabrizio Rauso
Director People, Organization and Digital eXperience
Sogei
Andrea Granelli
CEO
Kanso
Carlo Salvioni
Vice President
IQVIA
Mario Vitale
Direttore Business Development,
Stakeholder Engagement & External Relations
Luiss Business School
Marco Bentivogli
Coordinatore Nazionale
BASE (EX cisl)
Valeria Bonilauri
Consigliere d'Amministrazione CONSEL
Consorzio ELIS
Ugo De Carolis
Senior Advisor
Domenico Mastrolitto
Direttore Generale
Campus Biomedico
Gregorio Moretti
Head of People Office
Autostrade per l'Italia
Maurizio De Cicco
President & CEO
Roche
Marco Montebello
Procurement Manager
Poste Italiane

Andrea Pietrini
Chairman
YOURgroup
Dario Giannoccaro
Head of Organization and Digital Transformation
Vodafone
Fabio Salvi
Head of HR
FlixBus
Mario Attubato
Corporate Head of Digital Transformation
Saipem
Laura Filippi
CEO
ITW Italy Holding
Els Van de Water
Head of Global Executive Development
Banco Santander