A global challenge
The quest to launch the world's first zero-emission commercial aircraft began with the conviction that aviation, like other sectors, must evolve in order to stay strong and relevant in the next decades.
To achieve net-zero, huge technological, structural, and commercial difficulties must be solved across the whole value chain, from energy generation to airport architecture. However, much as the vehicle sector is swiftly switching from fossil fuels to electric energy, the transformation in aviation is already underway, with airlines, manufacturers, and governments generating momentum.
A sustainable business requires coordination and collaboration from all actors in the global ecosystem, and Airbus, as an aviation pioneer, is doing its share by promoting change. At the recent Airbus Summit in Toulouse, Guillaume Faury, CEO of Airbus, spoke on the importance of collaboration.
"It's a worldwide problem. Aviation is a worldwide industry. We think that a critical mass of at least the United States, Europe, and China is required to provide a fair playing field for changing at the appropriate pace and speed. Our commitment will assist other industries, such as energy, in doing the right thing for us "he stated.
Short-term: More cleaner fuels
Airbus is collaborating with partners to boost the use of Sustainable Aviation Fuels (SAFs), which are more environmentally friendly alternatives to kerosene or jet fuel. Because SAFs are manufactured from forestry or agricultural waste, they are more environmentally friendly than regular jet fuels. While Airbus aircraft are now approved to fly with 50% SAF and will reach 100% within a decade, the fuel accounts for less than 1% of the industry's usage.
Everything boils down to supply and demand. If more airlines agree to use SAFs instead of conventional jet fuels, energy firms will boost production, making it more economically competitive with conventional jet fuels. Governments can also assist by incentivizing businesses with favorable regulations that encourage the use of greener fuels.
Longer-term: Hydrogen propulsion system
For a longer-term answer to sustainability, Airbus is developing profound technologies and lobbying for cleaner energy that will revolutionize aviation as we know it. Hydrogen, a gas that converts to liquid at below-freezing temperatures, has the potential to cut CO2 emissions from aircraft by up to 50%.
"I am convinced that the use of hydrogen – both in synthetic fuels and as a primary power source for commercial aircraft – has the potential to significantly reduce aviation's climate impact," Airbus CEO Guillaume Faury said in a statement announcing the company's three zero-emission aircraft concepts in September 2020.
Hydrogen is a diverse source of energy. It can power customized gas turbines via combustion and also serve as an energy carrier by converting fuel cells to electric energy. It may also be combined with oxygen to produce synthetic kerosene, a more environmentally friendly alternative to jet fuel.
Morgan Stanley, a US bank, recently said that the cost of green hydrogen (hydrogen produced using green energy) will decrease to that of grey hydrogen (hydrogen produced using coal energy) in the next years, lowering the cost of renewable energy in comparison to fossil fuels. Although hydrogen is a possible long-term energy option, storing it poses substantial technological problems.
New machines to support hydrogen: ZEROe concept aircraft
Hydrogen gas is four times more volumic than kerosene (the present energy source), and in order to convert and preserve hydrogen in liquid form throughout the flight, it must be kept at -253°C. Planes require not only new engines but also a completely new architecture capable of properly storing hydrogen aboard. Airbus projected a plan of three concept-stage aircraft with hybrid-electric propulsion systems in September 2020.
"We require innovation." We have no idea what the answer will be. We must innovate and conduct research. And that's the phase we're in right now, which is why we're moving so quickly," Mr. Faury said of the technological shift to hydrogen-powered aircraft.
The three models include:
Turbofan: This type appears to be extremely similar to what is already flying in the air. It has a range of around 2,000 nautical miles and can carry between 120 and 200 passengers. The aircraft is propelled by two hydrogen hybrid turbofans.
Turboprop: The aircraft can go 1,000 nautical miles and has a capacity of up to 100 people. Two-hybrid hydrogen-modified turboprop engines power it. The aircraft is powered by modified gas turbine engines.
Blended wing body: This form is the least close to what is currently flying since the wings merge into the main portion of the plane, resulting in a triangle shape. This design has additional storage room for hydrogen energy as well as more cabin space, and it can transport up to 200 passengers every flight.
Within the next five years, Airbus engineers will design and test several hydrogen propulsion systems, as well as build the first demonstrators.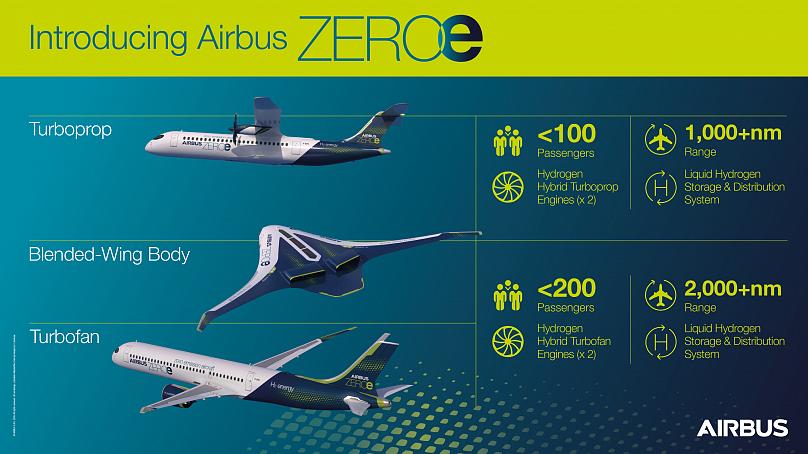 Ecosystems must support the transition
All stakeholders' involvement will assist to create a global playing field that will guarantee all businesses, from rural airports to smaller airlines, can keep up with the energy transformation and stay competitive.
Airports, which account for around 2-3% of industrial emissions, can begin using hydrogen to assist decarbonize ground operations (logistics, heating, electric transportation). Investing today will assist to provide the groundwork for future infrastructures, such as hydrogen refueling stations.
Making sustainable aviation a reality necessitates a tremendous amount of ambition, investment, and expertise on the part of all parties. Airbus is happy to be at the forefront of this shift, paving the way.
CEOforLIFE – We promote life. We support the SDGs