Enerwhere has been contracted as the temporary power provider for ASGC's site office in Dubai Creek Harbor. Enerwhere will power the site office as a proof of concept for six months to demonstrate the system's capabilities and dependability. Enerwhere is also anticipated to expand its services and take over temporary power provision for The Palace building site, as well as other ASGC projects now underway in the UAE and maybe beyond.
The solar-hybrid system installed at ASGC P308 Main Office consists of 56 kWp of solar capacity, which is expected to contribute approximately 20% of total energy production, combined with fuel efficiency improvements on the generator end, reducing ASGC CO2 emissions by 44% annually using clean, economical, and reliable energy.
The ASGC site office serves as the Main Office for The Palace Hotel and Homes, a 5-star waterside hotel and residence set to open in Q4 2023, with 121 key Palace Hotel and 587 branded residences. Emaar and Address Hotels and Resorts are working together on the project. ASGC is a vertically integrated construction business best known for executing turnkey special projects in the UAE, with operations also in Egypt and the United Kingdom. ASGC employs approximately 18,000 people globally and generates annual revenues of more than USD 1 billion.
Enerwhere is the premier provider of off-grid power solutions for commercial and industrial customers in the Middle East. Our portfolio of over 50 successful hybrid projects is one of the world's largest and by far the most extensive in the Middle East, with considerable project expertise in construction, hospitality, oil & gas, mining, and other industries.
Enerwhere, in collaboration with industry professionals, deployed the largest solar system on a building site at the Dubai Uptown Tower project last year and has since powered more than 20 construction sites around the UAE. This aided in the completion of iconic projects such as Brookfield ICD Palace, The Dubai Mall – Zabeel, Galleria Mall Abu Dhabi, Address Beach Resorts, Leaders Sports Complex, Al Shindagha Bridge, and many others, assisting the country in meeting its carbon emission and sustainability targets for the construction sector.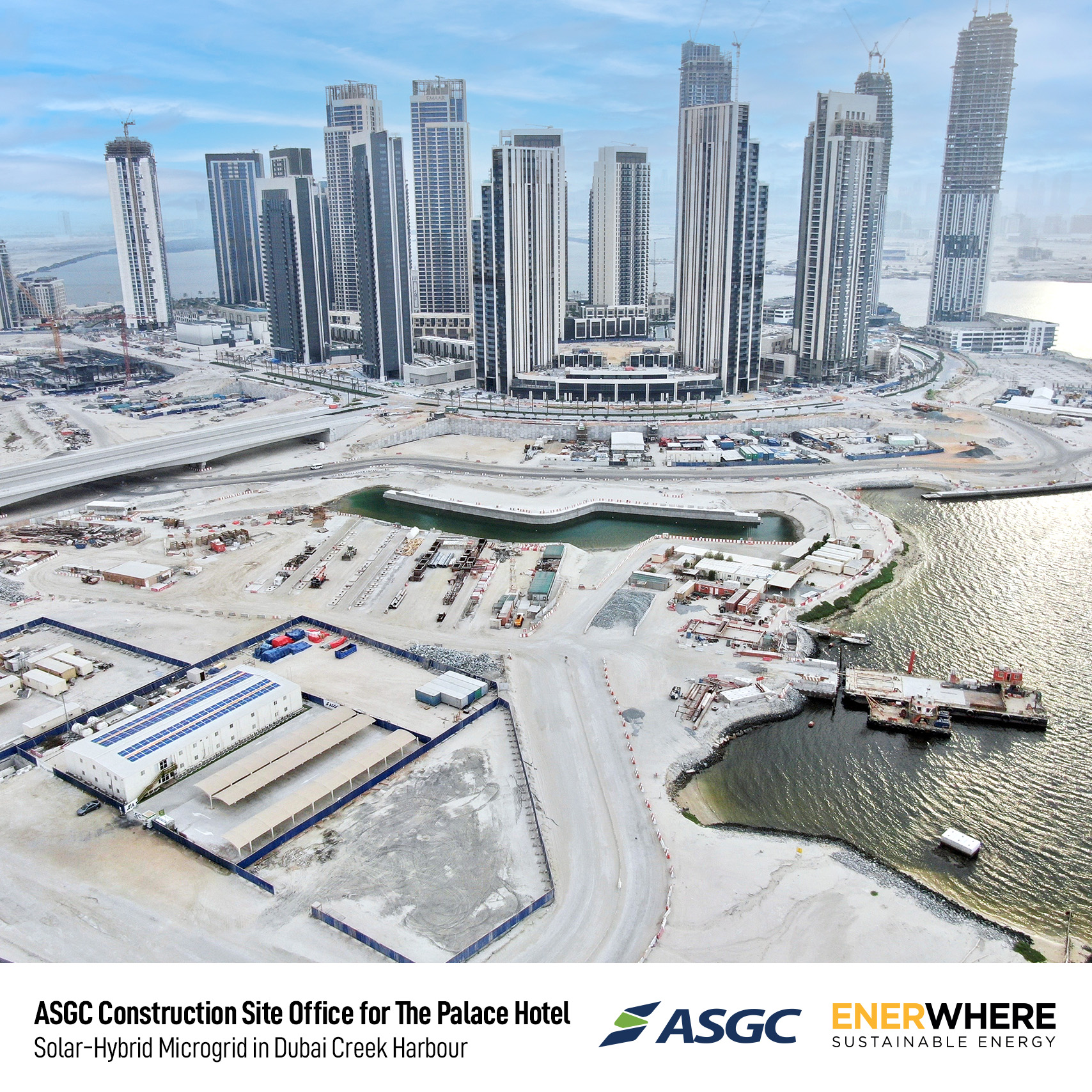 CEOforLIFE – We promote life. We support the SDGs.