The 79,500-square-foot facility, which will be located on the western border of the Caltech campus, was made possible by the Resnicks' $750 million donations to Caltech. The 2019 grant is the largest in the Institute's history and one of the largest ever made for sustainable environmental research.
The Resnick Sustainability Center, when completed in 2024, will open new metaphorical doors to sustainability in the areas of research, teaching, and social impact.
"This is an enormously big investment for Lynda and me," said Stewart Resnick, chairman and president of the Wonderful Company, speaking during the event on behalf of himself and co-owner Lynda Resnick.
"Caltech has always been a location where we societies go for reassurance when the ground shakes beneath our feet—to help us accept terrible scenes of fire and drought here in the west. We place all of our trust and support in the outstanding minds of Caltech. The accomplishments of this sustainability institute, situated in what will be a world-class facility, will help make our planet safer, healthier, more sustainable, and a better home for future generations. Lynda and I, as well as all of our colleagues at the Wonderful Company, are delighted to be Caltech partners."
In his speech, Governor Gavin Newsom (noting that he was the only politician in the world who could get away with it) recalled a remark made by Jerry Garcia, the former leader of the Grateful Dead: "He had a fantastic saying that, as I'm sitting here, I pondered on: He stated that you do not want to be the greatest of the best; instead, you want to be the only one who does what you do. And I consider that statement in light of where we are at Caltech. Nobody else does what you do. You are not the 'best of the best,' but you have revolutionised the area. But so, too, have the Resnicks, in terms of their philanthropy and exceptional entrepreneurial drive, and the two
"California has more scientists, researchers, Nobel laureates, startup capital, and patents than any other state in the world," Newsom continued. "This talent conveyor system is a fascinating location. Caltech is a major contributor to this. So thank you, everyone, for being a part of not just this moment, but of all the moments that produced the institution and the moment of opportunity that we'll be celebrating more formally here in a moment."
Since its inception on campus in 2009, the Resnick Sustainability Institute (RSI) has brought together scientists and engineers from Caltech's six academic divisions as well as JPL, which Caltech manages for NASA, to address the most pressing issues in water, energy, food, and waste in a world facing rapid climate change.
Caltech researchers have achieved substantial advances in photocatalytic water splitting, envisioned new techniques for absorbing and transporting solar energy, and identified a means to accelerate carbon sequestration in the ocean, among other accomplishments.
"All of this is feasible because of the extraordinary generosity of Lynda and Stewart Resnick. They have invested in Caltech to allow initiatives on a scale commensurate with the climate challenge, and the Resnick Sustainability Institute only asks that we commit ourselves to ask pivotal questions and finding impactful solutions "Caltech President Thomas F. Rosenbaum, Sonja and William Davidow Presidential Chair and professor of physics, made the announcement. "This structure will boost the creativity and energy of young researchers as they devote their energies to understanding the underlying workings of nature and putting that information into action."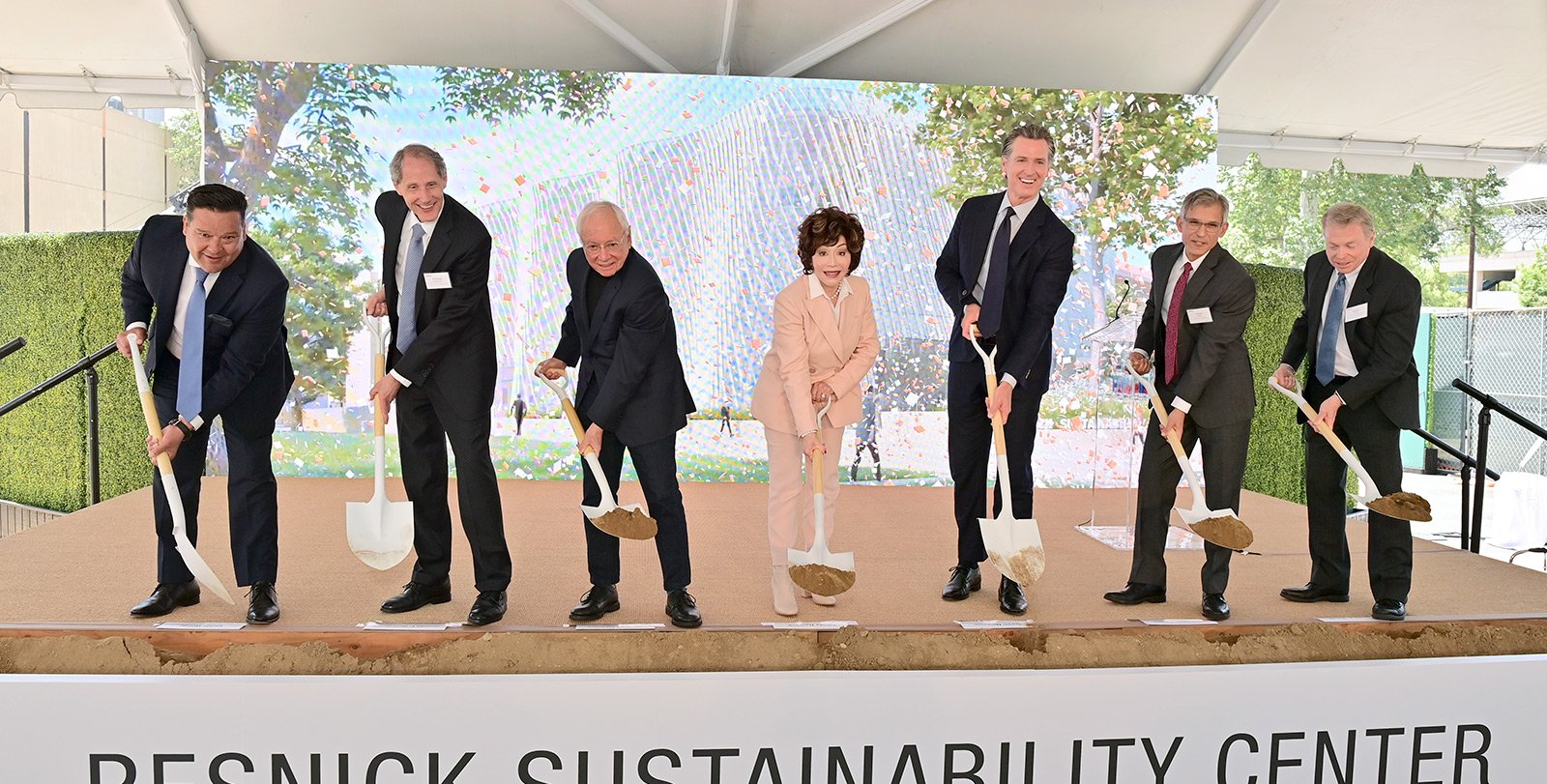 The prospective Resnick Sustainability Center, which will function as the Institute's physical hub for sustainability initiatives, was designed by CannonDesign's Yazdani Studio and will incorporate a variety of sustainable materials and features, putting it on track to earn LEED platinum certification, the highest level of the LEED (Leadership in Energy and Environmental Design) rating system.
Rather than hosting individual faculty members' offices and labs, the new facility will include specialised equipment, space, dedicated staff members, and resources that will be available to research groups and innovators across Caltech. RSI's key efforts, Sunlight to Everything, Climate Science, Ecology and Biosphere Engineering, and Water Resources have all received dedicated research facilities and equipment.
The facility will, for example, include a translational science and engineering facility that will give nimble space to scale up and test early-stage inventions for potential translational effect, as well as a solar roof where photovoltaic devices may be evaluated under real-world settings.
"Caltech's outsized effect stems from its small and intimate atmosphere, its great students and teachers, and access to extraordinary resources managed by bright research personnel. The Resnick Sustainability Center puts these critical components combined underneath one roof, with a laser focus on creating innovations that will address the issues of climate change and resource management "RSI director Jonas Peters, a Bren Professor of Chemistry, said.
The establishment of the Resnick research grants programme, which has enabled Caltech to invest millions of dollars annually since 2020 in interdisciplinary research projects led by faculty, dedicated to advancing new ideas, inventions, and instrumentation that have a direct impact on the world, has been a hallmark of RSI's efforts. RSI-funded researchers, for example, are looking into the use of underground fibre optic cable arrays to track groundwater and aquifer recharge in California's Owens Valley, as well as developing bio-composite materials made from algae and agricultural waste to replace plastics and engineered woods. Another RSI-sponsored project, which developed a novel technology for capturing carbon dioxide from ocean waters in order to combat global warming, was recently granted $1 million by the XPRIZE Carbon Removal competition.
The new base is planned to stimulate such efforts further by offering academics and students throughout campus access to cutting-edge instruments and technology, as well as bringing people from other sectors together to create solutions.
Caltech provost David A. Tirrell, Carl and Shirley Larson Provostial Chair and Ross McCollum-William H. Corcoran Professor of Chemistry and Chemical Engineering, said, "Because of Lynda and Stewart's generosity, Caltech is exploring new avenues in the sustainability research and education that we couldn't imagine a few years ago." "The Resnick Sustainability Center will be a magnet for scientists and engineers—including future scientists and engineers—who aspire to tackle some of the world's most critical challenges."
The RSC will also be a hub for environmental education. The new structure will take the place of the now-demolished Clifford S. and Ruth A. Mead Memorial Undergraduate Chemistry Laboratory, which housed Caltech's undergraduate chemistry labs for the past 40 years. Because all first-year students must take a chemistry lab course, every future Caltech undergraduate will have at least one class in the building, where they will be introduced to the concept of sustainability through a reimagined curriculum that grounds their education in an understanding of society's environmental challenges and instils a principle to seek solutions across specialities.
Furthermore, the RSC will contain teaching and learning spaces that are available for courses in various majors around campuses and are built for flexibility and hands-on inquiry; state-of-the-art laboratory space for chemistry training; and active-learning classrooms.
"Every time I turn around, Caltech isn't hitting it out of the park; it's hitting it out of the cosmos," Mayor Gordo stated. "I'd want to congratulate all of you on your wonderful accomplishment."
CEOforLIFE – We promote life. We support the SDGs