Megan Woods, Minister for Energy and Resources, formally unveiled the co-op's e-tanker this afternoon in Morrinsville, Waikato.
Milk-E is around the size of a standard milk tanker and will function at a GVM (gross vehicle mass) of 46T with a trailer.
According to Fonterra Chief Operating Officer Fraser Whineray, its capacity is only below that of a regular milk truck.
"A regular truck and trailer for milk transport has a capacity of 28,000 litres, and this tanker, due to its configuration, will be roughly 8% smaller, so it won't be able to carry quite as much milk," he explained.
"It will travel around 140 kilometres on a full charge, but that is something we want to evaluate on trials."
"And when it returns to site, we will switch out the batteries."
"So, rather than taking three hours to recharge, which is impractical for keeping the truck on the road as much as possible, we can swap the battery out in six minutes – well, that's theoretically what it'll be able to do, and I suppose we'll have to get in more practise like a Formula One pit crew to get up to that time."
XCMG, a Chinese construction machinery company, built Milk-cab E's and chassis.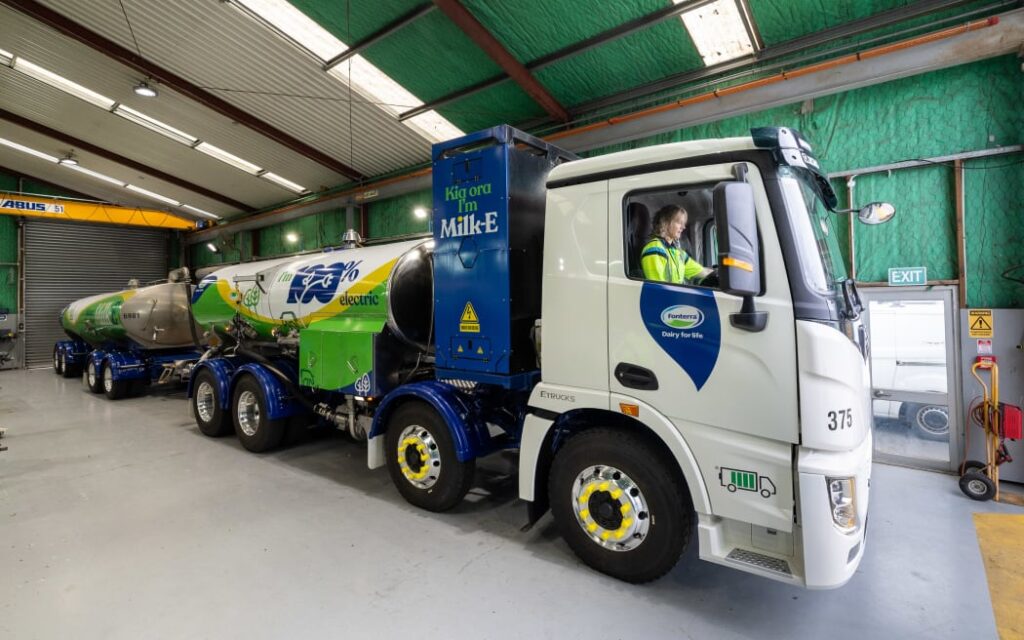 Whineray stated that the e-tanker would be located at Fonterra's Waitoa factory during the experiment and would service adjacent farms.
He claims that the electric tanker costs 50% more than a standard tanker, but because its operating expenses are not affected by oil prices like gas guzzlers, it will be more cost-effective over time.
"If you drive on electricity, it's approximately 30 cents a litre, and if you drive on diesel currently, it's probably a couple of dollars a litre from the forecourt," he added.
"So, one of the main motivations here is that it will lower prices, which is crucial for us and eventually for New Zealand's fuel imports, since around a third of Fonterra's foreign exchange profits, the equivalent of that, goes towards buying gasoline for the country.
"And all structural expenses in an economy have a transportation component – every cup of coffee, every TV, everything that moves consumes energy and transport fuel.
"So, if all of that has been operating at 30 cents a litre today, rather than very increased important fuel prices today, which we're seeing come through inflation figures and Reserve Bank responses, then structurally, the nation ends up in a far more resilient cost position, and it's also buying its electricity locally rather than having to import fuels."
Whineray stated that Fonterra will test Milk-E for a couple of years before expanding its electric fleet.
CEOforLIFE – We promote life. We support the SDGs