Europe's biggest retail trade exhibition is approaching its end, and we've returned to the office after seeing some significant new items and a few intriguing innovation concepts. However, unlike many of its counterparts, IFA 2022 did not focus on new TV technology, video standard, or even gadget trend. As usual, we were treated to a concept, but this time it was nearly "anti-tech."
The most important lesson we took away from the event is that firms are still doing their best to develop new goods, but with the planet's precarious future at the centre of design decisions.
"Sustainability" was more than just a term; it was at the centre of a flurry of announcements. Even when corporations didn't have anything new to show, they were delighted to tout how long their present sustainable product lines would last.
Energy waste
Take, for example, Samsung, which spent most of its hour-long, unbroadcast IFA press conference addressing how its custom washing machines employ AI to make smaller bubbles, lowering the temperature necessary to remove gravy stains off a tea towel. Or, why making all of its gadgets smart and Wi-Fi enabled by 2023 will save power consumption?
Aside from cynicism, the corporation also highlighted a few initiatives that the tech sector is doing to solve the issue and genuinely earn the sustainable label.
Consider its SolarCell Remote, which automatically recharges itself using minimal light and, surprisingly, Wi-Fi radio signals, eliminating the need for replacement batteries. And, given Samsung has made the licence available to other parties, other firms may follow suit with equally eco-conscious clickers.
By minimising this kind of waste with an everyday device that doesn't even need to be recharged through the use of a traditional power source, Samsung and its partners solve two problems at once: we get something more environmentally friendly and something more comprehensive for the user. We won't have to look for a couple of AAAs simply to watch Antiques Roadshow.
The corporation also used its keynote to pledge to incorporate longer-lasting appliances and goods, which was also urged by peers.
That is maybe the actual definition of sustainability in the tech sector. We've spent the last several decades chewing our way through throwaway gadgetry, and although it's made some companies wealthy (or even richer), it hasn't done anything for garbage or the carbon emissions emitted by manufacturing facilities.
So, although Samsung and others appear to agree that they have benefited enormously, perhaps it is time to cease manufacturing AV equipment that needs to be replaced every three or so years. Phones, for example. Or refrigerators.
Modular mission
To that end, we were particularly taken with Bang & Olufsen's Beosound Theatre sound bar idea. It is not only constructed to endure at least ten years, but it also has a modular architecture that allows different physical pieces to be improved and replaced.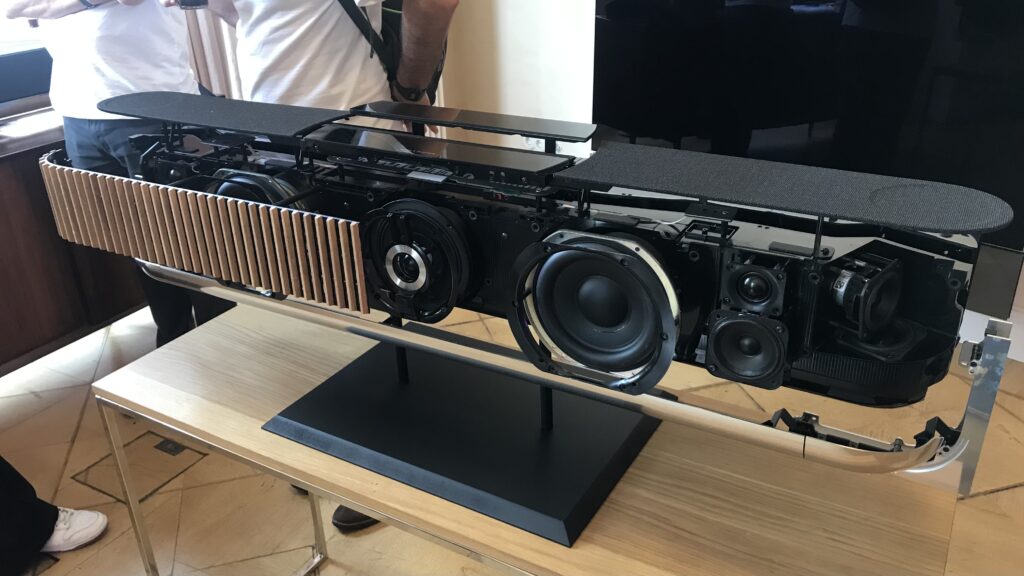 The processor is already over-spec'ed, allowing for beefier software upgrades later in its lifespan, and certain back modules may be changed. A good example is the source input panel. It now features eARC-enabled HDMI ports, but if a new input is specified before 2032, a new hardware module may simply be fitted in.
Naturally, speakers are more suited to durability – at least in contrast to TVs – but this added focus on the digital side of the process helps us to be more attentive to the devices we replace.
Another device we noticed that fit into a similar category was the LG MoodUp refrigerator. Yes, it has the most recent low energy ratings and certifications, but it was the design that made us think "sustainable." The fridge's colour-changing LED panels on the doors to make it more flexible to home remodelling trends. So, if you want a whole new kitchen, you can change the fascia of the MoodUp to match rather than replace the entire appliance.
It might simply mean that you keep your next fridge for a longer period of time.
There were lots of additional examples from many of the major technology companies, and while it will undoubtedly result in higher retail pricing to cover the expense of fewer devices sold, we think that's an aspect of sustainability we can all uphold.
CEOforLIFE – We promote life. We support the SDGs