Innovations change the world, and an expanding number of digital platforms enable individuals to participate in the business. So why not? It is apparent that individuals are eager to monetise not just their currently idle property or automobile, but also their spare time! All that remains is to balance supply and demand.
In the framework of the Slovak energy industry, flexibility – that is, the control of energy sources and energy-intensive appliances based on transmission system demands – has a large but underutilised potential.
Because of the flexibility, the market for regulatory services, which has lately lost a significant number of participants, can be expanded by resources and technologies that would otherwise be turned off or operated with varied power outputs. Flexibility maximises the adoption of these technologies, resulting in decreased CO2 emissions at the power generating and distribution levels.
Flexibility brAIn by FUERGY
Flexibility brAIn balances the load variances of the power supply using a similar approach to the battery storage system.
It controls energy sources and technologies with the capacity for accumulation and regulation, such as heat pumps, furnaces, tanks and reservoirs, cooling and heating systems (HVAC), compressors, electric cars, solar panels, and other technologies and resources, rather than batteries.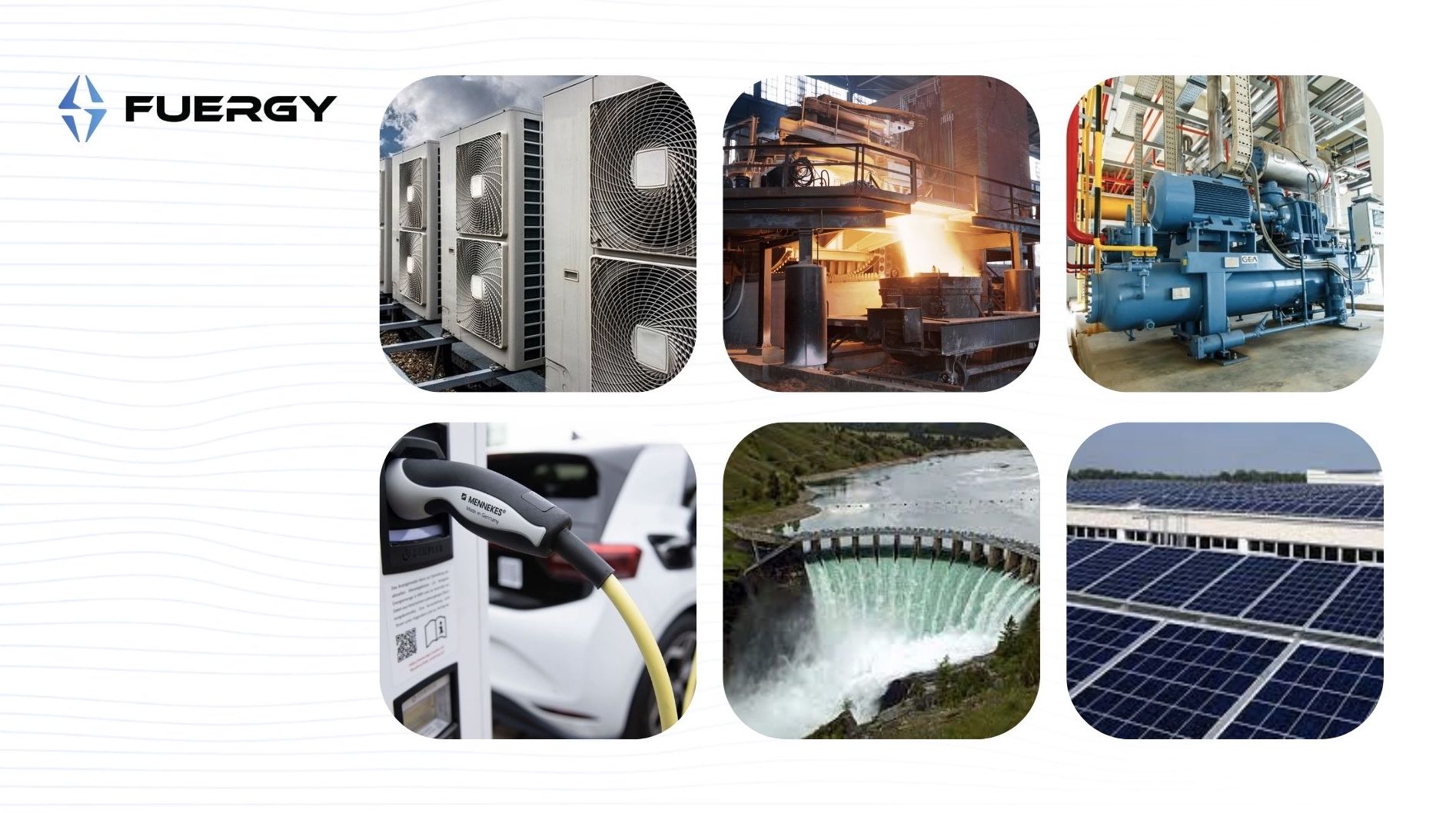 In the event of a power outage, Flexibility brAIn activates available energy sources and decreases the power output of technologies for a specified time interval. When there is an excess of power and it is required to withdraw it from the grid, the same concept applies, but in a reverse way.
Flexibility brAIn operates in real-time every 15 minutes and may be used as a standalone service or as an addition to the smart battery storage brAIn, which can control power generation and consumption even more effectively.
How is the Flexibility brAIn different from power system flexibility?
In the adjacent Czech Republic, the service of flexibility is nothing new. However, in order to provide power system flexibility, the following characteristics must be well defined:
(reserved) the time span during which flexibility is accessible;
the +/- range of service activation within the provided time frame;
When activating the service, the needed power output gradient includes the time between the command to activate the flexibility and its technical activation, the gradient of power output rise/down, and the duration of the steady power output between the ascent and decline.
As a result, the organisation that offers power system flexibility is required to deliver regulatory power within defined ranges and availability for certain time intervals. The company is then compensated for its availability as well as the volume of regulated power delivered.
Flexibility brAIn does not require an energy source or technology to be available during the time intervals specified. The FUERGY programme provides specific "opportunities" throughout the day for control based on data regarding power price trends, supplier load variances, and smart forecasts.
It also defines the amount of regulation power, i.e. the most appropriate decrease or increase in power output (in kilowatts), that should be triggered for each specific technology, for each regulation opportunity. Technology control occurs only within agreed-upon parameters and limits so that it has no effect on the functioning of the distribution point, the comfort of users, or the quality of the final product.
The consumer may also choose whether to execute the activation manually at his convenience or to let the programme handle it completely autonomously. The automated option, on the other hand, is significantly more popular among clients since it makes regulation easier and delivers the greatest financial returns possible.
Economic and environmental benefits
The most significant advantage of Flexibility brAIn is that it is a pure software update to current technologies, making it both cost-effective and simple to adopt. In reality, the entire implementation process takes only a few days, if not hours.
All that remains is to verify that the technology and the FUERGY software communicate in a reliable and secure manner. This connection can be enabled through an existing measurement and regulation system (referred to as MaR) or through dedicated hardware, such as the FUERGY Control Unit. Because both the flexibility and the battery storage system are "behind the smart metre" solutions, a smart metre or secondary electricity measurement is required. However, this is no longer a serious issue.
The environmental effect of Flexibility brAIn must also be highlighted – in a positive way, of course. Regulation services (also known as auxiliary services) are mostly offered by big fossil fuel companies. This is due to their dependability and availability in terms of electricity generation. We may replace the fossil suppliers and thereby reduce global greenhouse gas emissions by including smaller, low-emission companies in the non-certified regulated service market.
Flexibility for large customers
Flexibility is now employed mostly by big energy producers and owners of high-energy-intensive technology in Slovakia. It is because the majority of flexibility solutions need some level of technology regulation oversight in order to avoid potential mistakes that might weaken the obtained result. As previously said, Flexibility brAIn may operate in a totally autonomous mode, which is more efficient and yields better financial returns than when human subjectivity is involved.
brAIn's flexibility is shown through battery storage, energy-intensive technologies (known as DER or demand energy response), and alterations to the plans for electricity use and output (in case the customer has its own energy source). The FUERGY programme continuously captures data on power generation and consumption and plans for future growth. It employs its FUERGY's sophisticated monitoring systems and prediction algorithms, which incorporate artificial intelligence. At the same time, it gives an online summary of how much regulation power each technology has engaged.
Aggregated flexibility for smaller delivery points and households
As previously stated, smaller energy sources and technologies hold enormous flexibility potential. Even at the family level. Because families, like huge consumption locations, have the same "opportunities" to supply regulatory services throughout the day.
Households can join in Flexibility brAIn by using a variety of technologies, including a battery storage system, a photovoltaic + battery storage system, electrical equipment such as heat pumps, electric boilers, air conditioning or heating systems, or an EV smart charging station.
It is, however, more economical to handle all smaller entities as a single group, i.e. to aggregate them. This is permissible under current Slovak legislation for delivery locations within the same balance group. Electricity suppliers can manage small participants collectively using the Integrated flexibility aggregator brAIn. The programme provides detailed online information on the active regulatory power for each technology and time interval.
And, because all of the flexibility participants are in the same balance group, the financial effect may be simply dispersed by the power suppliers as part of the monthly billing. Furthermore, because the given regulatory power is certified by the Short-term Electricity Market Operator, all statistics are completely visible and verifiable (OKTE).
The brAIn Integrated Flexibility Aggregator is therefore the first step in allowing energy suppliers to begin delivering new goods and services to families and small delivery points, allowing them to monetize their green technology. Or, at the very least, to incentivize them to deploy these technologies. Households retain their regulated entity status and the related assurances in the form of fixed power pricing.
FUERGY results
We now have a number of successful flexibility initiatives behind us. Although this service is still being refined, the Flexibility brAIn's average monthly effect for bigger distribution locations can reach EUR 50 per 1 kW of regulatory power.
The home project is now undergoing pilot testing. However, the anticipated savings are far more appealing than double-tariff metering. We believe there is a strong need for FUERGY home solutions and want to launch this project soon.
In general, the savings realised translate into a faster ROI on green technology, making them an appealing investment prospect. This is what has piqued the interest of many financial sector actors, who might possibly fund green technology (not just) for families, lease them under the model Energy as a service, and therefore promote access to cheaper green energy for every single electricity consumer.
As can be shown, the digitization of the energy industry via the Flexibility brAIn offers up new avenues for filling gaps in the energy market and accelerating the green energy transition. Experience has shown that this notion is really useful. Because of its great efficiency, it saves a lot of money as well as the environment. So, let us attempt innovation and join forces for a brighter energy future.
CEOforLIFE – We promote life. We support the SDGs