Three futuristic buildings rise from the soil around 40 miles south of San Francisco. The structures, with their sloping roofs draped in millions of overlapping tiles, may be mistaken for the world's most architecturally sophisticated circus tent.
They are, in fact, part of Google's new Bay View campus, which is set to open this year — pandemic permitting – and is located a few miles east of the company's old Mountain View headquarters.
The business claims that the final buildings would feature 90,000 tiles that create a "solar skin" roof, which its designers have dubbed "dragonscale" and estimate will generate nearly 7 megawatts of energy or 40% of the campus's electrical demands. It views this as part of its attempts to meet CEO Sundar Pichai's vow that Google will run its data centers and campuses on carbon-free energy by 2030.
Corporations have never been under more pressure from authorities to follow through and make substantial progress on carbon emissions, as well as more scrutiny from environmentalists – and their own employees.
According to numerous US architects contacted by the Guardian, demand for low-emission workplaces is higher than it has ever been. This is especially true in California, where the effects of climate change are visible: hotter summers, drought, and an annual wildfire season.
"Buildings are terrible for the environment," said Eric Corey Freed, sustainability director at CannonDesign. "If we are to tackle climate change, we must repair our structures."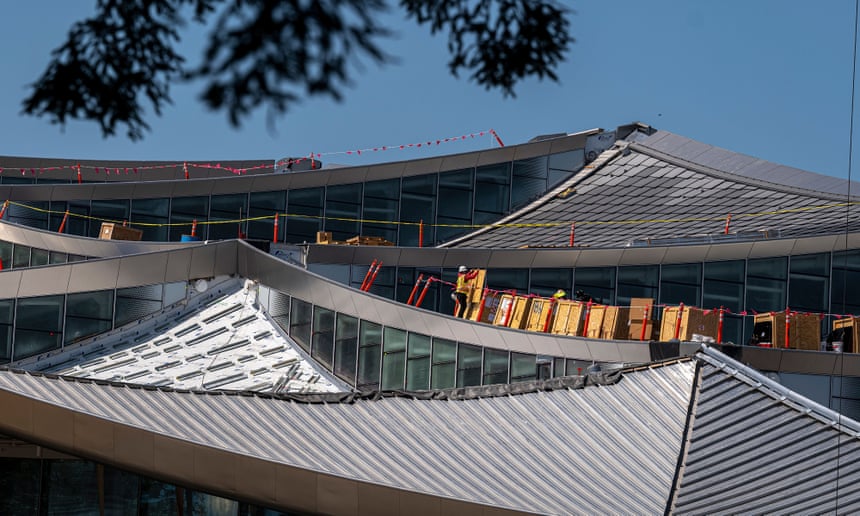 Buildings in the United States utilized over 40% of the country's power in 2020, according to statistics from the US Energy Information Administration, and are also one of the world's largest emitters of greenhouse gases, accounting for 37% of global energy-related CO2 emissions. That doesn't include the emissions from refrigerants, which are chemicals used to maintain air conditioning systems and freezers and have a global warming potential hundreds to thousands of times greater than carbon dioxide.
Designers must consider the "operational carbon" of operating the building as well as the "embodied carbon" of generating it, which includes emissions from making materials, building the project, and carrying garbage out.
However, Freed is optimistic since the expenses of being sustainable are decreasing. "Considering solar [panels] for your campus or building is significantly less expensive than it used to be," Maria Papiez, EwingCole's director of sustainable design, noted. "In the past, that was basically exclusively for the Googles, who had the money to do it." And in certain regions, it is currently the least priced kind of power."
In addition to the "dragonscale" solar panels, Google's new campus will have a geothermal battery underneath that will store heat to warm the structure, according to Asim Tahir, the tech giant's lead on its sustainable energy strategy. Tahir explained that the goal of all Bay View developments is to "kickstart this business in the US by demonstrating it can be done." Google has collaborated on the project with architecture firms Heatherwick Studio and Bjarke Ingels Group (BIG), as well as SunStyle, a Swiss business that has installed solar panel arrays on various buildings in Europe and wants to grow in the US.
"I really like the concept of a tipping moment," EwingCole's Papiez remarked. "Once we reach a critical mass, we have an opportunity to really tip in the right direction."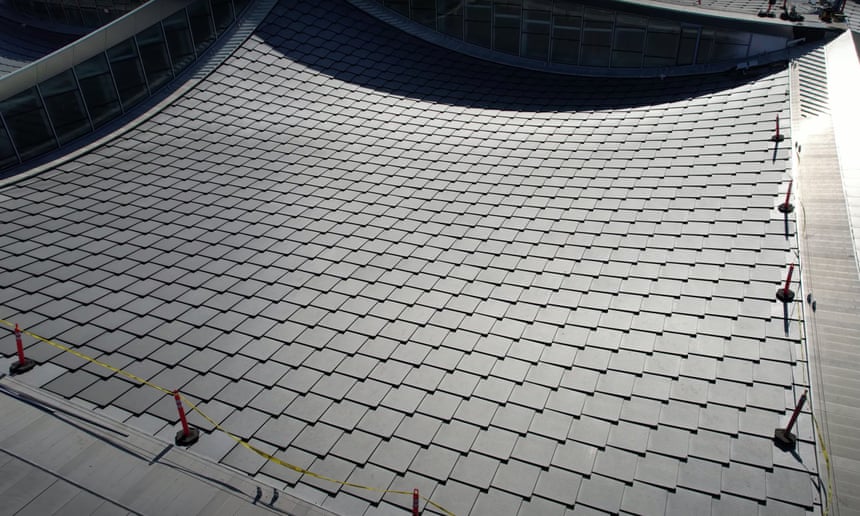 Chris Chatto, a principal at design firm ZGF who has been focusing on sustainability for the past 15 years, says he has noticed a significant increase in clients wanting sustainable structures. "To be honest, the number of talks I've had in the last three to six months is probably the same as I've had in the last few years," he added. ZGF is presently collaborating with Microsoft, which has also set significant targets for reducing carbon emissions. "I think we've definitely seen more consistent signals and interest from the tech industry on the west coast," he continued.
Beyond the large tech companies, Architect Anthony Brower, a Leed fellow and director of sustainability at design firm Gensler, has observed this. "Some clients have very generic expectations," he explained, "such as seeing sustainability integrated into their business." Other clientele are becoming increasingly explicit about what they want in a sophisticated manner."
Recruitment and regulations
Aside from contributing to global climate objectives, sustainable design is increasingly being used as a recruiting tool, particularly when vying for Gen-Z employees who are genuinely concerned about the environment and want to work for a firm that shares their beliefs. Even Google CEO Sundar Pichai has stated that transitioning to renewables will help the firm recruit staff. "You won't be able to recruit talent if you don't do this right," Pichai told Bloomberg. "When I look at the younger generation, individuals who are now adolescents, I don't see them choosing to work for a firm that they believe is polluting."
Freed agrees, saying that employees typically prefer the experience of working in a sustainable building to that of a standard office, even if they don't know why, in part because sustainable buildings are often filled with natural light. "The places are just great to be in," Freed said.
However, this movement is about more than merely recruiting or doing something decent. Companies are under increasing pressure to invest in sustainable initiatives as regulations and building rules are changed. California's objective is to reduce greenhouse gas emissions by 40% below 1990 levels by 2030. Corporations also do not want to be penalized for refusing to comply with potentially stricter legislation in the future.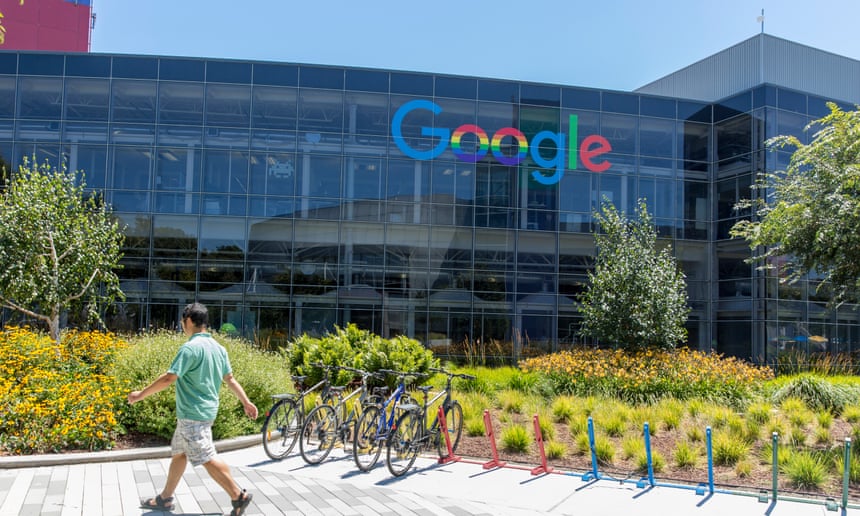 "There are carbon emission standards that force building owners to essentially raise their carbon efficiency… and if they don't, they're penalized," Chatto, the architect of ZGF, explained.
These signals are altering how investors view their properties. "At least some of our clients recognize that they will be occupying the facility for the next ten years." Then, when they want to sell and recuperate their investment, it might be a totally different world 10 years from now," he added.
One of California's latest construction standards may incentivize businesses to use less harmful building materials. The authorities approved mass wood constructions up to 18 floors tall in July. Mass timber, which consists of tiny pieces of wood fused together to form sturdy slabs, is hailed as a more ecological alternative to steel and concrete, and has been widely utilized in Europe for over two decades. Prior to the code amendment, California limited mass wood constructions for commercial usage to six stories, rendering many projects impossible to employ.
In California, mass timber is an intriguing possibility. The material has a lower carbon footprint than concrete and steel, and it even sequesters carbon, drawing it out of the atmosphere like trees, transforming a structure into a carbon sink. 1 De Haro, California's first multi-story, completely mass wood structure, was just built in San Francisco by SKS Partners and Perkins&Will. The area appears cozy but immaculate, with floor-to-ceiling glass windows mixed with bare wood beams and ceilings. The project is designated as a part office, part light manufacturing space.
Google is trying a daring feat with its goal to become carbon-free. The objective is lofty, especially given that it is accountable not just for the production of its campuses, but also for large data centers that house its servers. It's important noting that Google's strategy excludes the corporation's scope 3 emissions — emissions that can be traced back to the company but that the company may not be able to control. According to Grist, these include Chromebook and Pixel manufacture, production supplies, and transportation. Though not illegal, there is a flaw in the net-zero statistic that affects businesses of all sizes.
Architects continue to promote sustainable workplaces as tools for change in order to shift the needle. "It's been an exciting moment to be in sustainability," Freed said, "because these pressures are rising, and corporations now not only have to take it seriously, but they want to because they're seeing these overall patterns."
CEOforLIFE – We promote life. We support the SDGs