Holganix LLC was founded in 2010. Holganix, based on their ground-breaking microbial product Bio 800+, harnesses the power of over 800 soil bacteria to improve plant and soil health.
Holganix Bio 800+ provides a solution for lawn maintenance businesses and golf resorts to eliminate the demand for fertilisers and pesticides while maintaining agronomic outcomes. Holganix Bio 800+ enhances fertiliser uptake by the plant, produces thick root systems, and eventually boosts crop output, all while charging soils with the soil microorganisms required for productivity.
Their goal is to transform the way the world grows. The Greater Green Goal was established to assist them in monitoring that transition. By Earth Day 2025, they commit to removing 100 million pounds of nitrates, 25 million pounds of phosphates, and 100 million ounces of concentrated pesticides from the cosmos.
Fertilizers are a critical component of how the green sector produces results and feeds the planet. By advocating their Greater Green Goal, they hope to provide agronomic solutions that will enable fertiliser users to boost nutrient intake while decreasing their dependency on fertilisers.
Greater Green Goal: Where Are They Now?
Over 1,000 lawn maintenance businesses, dozens of top-tier golf courses and major sports venues, and hundreds of thousands of agricultural acres now employ Holganix technologies.
Holganix has removed 35,913,751 pounds of nitrates, 8,978,938 pounds of phosphates, and 33,671,017 ounces of concentrated insecticides to date.
"We're approximately 35% of the way to our target," Barrett says. "We have a long way to go to meet our objective, but we are confident in our capacity to do so."

How Does Holganix Bio 800+ Reduce Or Optimize Fertilizer And Pesticide Use?
Per each gallon of Holganix Bio 800+ used, they remove around 18 pounds of nitrates, 4 pounds of phosphates, and 17 ounces of concentrated insecticides, depending on the plant type.
Holganix Bio 800+ infuses soil with microorganisms that benefit plants:
Increase the strength of your roots so that they can mine for nutrients more effectively.
Improve soil structure by increasing the availability of nitrogen-fixing bacteria and phosphorus-solubilizing bacteria.
Building long-term soil health so that the soil can better catch and store nutrients – this is because bacteria maintain nutrients in the root zone longer, where plants can better utilise them.
Increasing plant resilience so that the plant can cope better with stress caused by weather, disease, traffic, and other factors.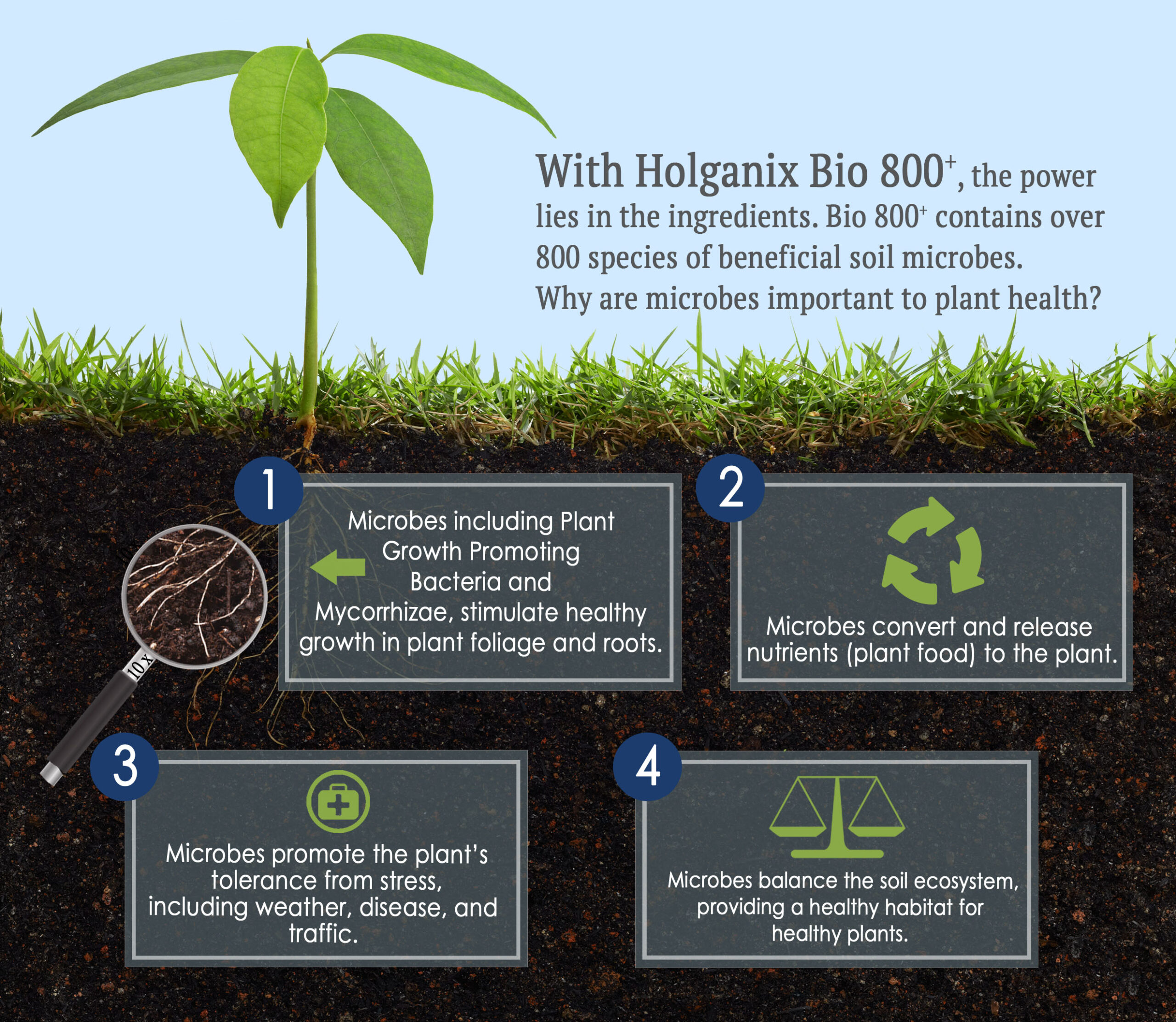 CEOforLIFE – We promote life. We support the SDGs