Row upon row of lush vegetables are heaped one on top of the other, spanning as far as the eye can see, all inside a massive shed lit by dazzling artificial lights.
Vertical farming is the new frontier of agriculture, according to proponents, since it makes the greatest use of land and water for high-value crop production.
Vertical farming with its dazzling artificial lights create a dramatic contrast to the usual earthy picture of crops growing in fields, from an abandoned steel factory in Newark, New Jersey, to a Second World War tunnel underneath London.
With the announcement this week that Emirates Airline's catering arm has joined with a Californian startup, Crop One, to create what has been billed as the world's largest vertical farm, the UAE is quickly becoming a crucial center for the phenomenon.
It offers the potential of producing more produce locally – although for airplanes and airport lounges rather than homes and restaurants – while making the greatest use of limited water resources in a country that depends on imports for at least four-fifths of its food.
Vertical farming is based on the use of hydroponics, a method that was initially utilised in the UAE about half a century ago and is now well established locally through a number of commercial farms.
Emirates Hydroponics Farms, for example, based between Abu Dhabi and Dubai, can produce one kilogram of lettuce using about 20 liters of water, with water recycled rather than draining into the soil; standard farming methods may require 400 liters, an incredible amount for any country, especially one with a scarcity of water.
Controlling factors such as temperature, nutritional levels, and humidity increase growth rates dramatically, allowing for the production of 18 crops each year — three times the amount produced by conventional agriculture.
The lack of soil — plants grow in a hydroponic medium such as rock wool, a fiber material made from molten rock – removes soil-borne illnesses.
The temperature may be adjusted using air conditioning or evaporative cooling, enabling for year-round manufacturing even in the UAE.
Hydroponics is typically utilised for leafy crops such as salad rocket and lettuce, as well as vine crops such as peppers, cucumbers, and tomatoes. It has been used to grow rice, papayas, oranges, and grapes in the UAE, but on a modest scale.
Instead of sunshine, vertical farming uses hydroponics on numerous floors, with LED lighting suited to the needs of the specific crop. Farms may now be positioned anywhere, including in cities, thanks to artificial lighting.
"There's a rising understanding that hydroponics may be used in places that would otherwise be unused, such as these old tunnels [beneath London, where a vertical farm is located]." Vertical farms are popular because they take up less area," said Professor Neil Bricklebank of Sheffield Hallam University in the United Kingdom, who has worked on hydroponics technology.
LED light technology advancements have been attributed to promoting vertical farming: artificial lighting can produce all of the light that a plant requires, and the newest varieties may be situated just a short distance above the crop, allowing for layer stacking. LED lighting is also getting more efficient, which reduces energy expenses.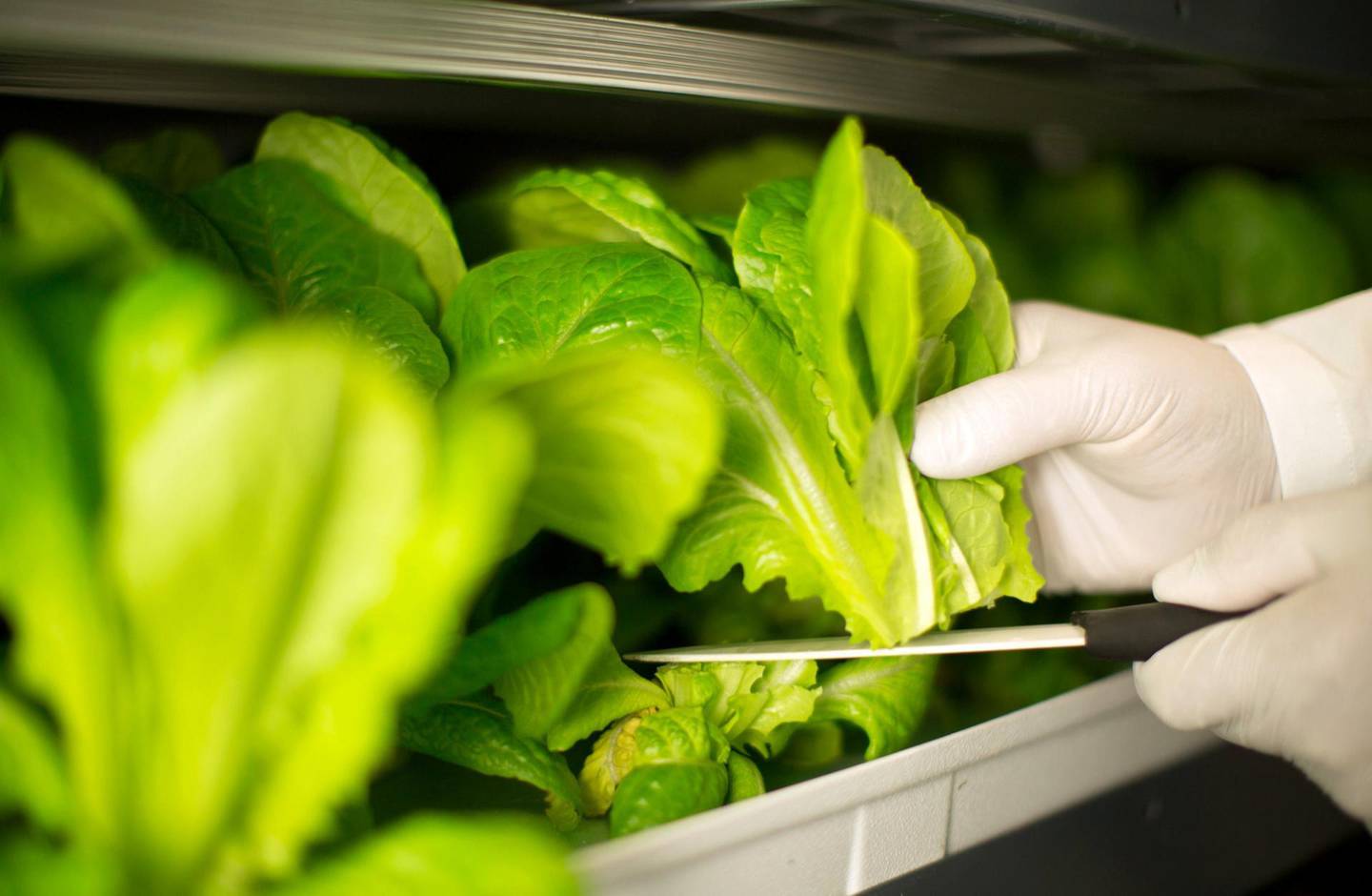 According to The National, the recently announced US$40 million (Dh146.9 million) Emirates Flight Catering plant would be located near Al Maktoum Airport at Dubai World Central and will produce 2,700kg of leafy greens per day without the use of pesticides or herbicides. It will cover 130,000 square feet, or around 1.2 hectares, although it is touted to generate as much produce as a 364-hectare farm.
The news of the new farm, whose construction is slated to begin in November, comes only a few months after the formal launch of what has been characterised as the GCC's first commercial vertical farm in Dubai. Badia Farms constructed an 8,500-square-foot facility in Al Quoz Industrial Area 1 and began producing leafy green vegetables in December last year, ahead of a ceremonial inauguration in March.
Vertical farming has been used in the UAE on a lesser scale, through different companies, since at least 2012.
New patented technology for use in vertical farms are being marketed. AeroFarms, a company located in the United States that built the vertical farm in a disused steel plant in Newark, defines their process as "aeroponic," with roots getting water, nutrients, and oxygen in a mist rather than liquid. This method is believed to require 40% less water than hydroponics.
According to one expert, despite the fact that it is already present in nations such as Japan, South Korea, and the Netherlands, vertical farming has had various drawbacks up until now.
According to Dr. Howard Resh, a Canada-based consultant who has worked on hydroponics projects in Saudi Arabia and Kuwait, among other countries, vertical farms may be "very costly to develop and manage," in part due to high staff expenses.
Furthermore, energy inputs are considerable due to lighting and temperature controls, despite the fact that local vertical production might cut carbon emissions from food transportation.
Dr. Resh contends that illumination in some vertical systems is inferior to that in greenhouses, resulting in lower-quality crops. However, he sees certain advantages.
"These vertical systems may be advantageous in hot, humid climates where greenhouse cooling cannot keep temperatures at optimal levels." These temperatures might be better managed with air conditioning systems in an insulated structure," said Dr. Resh, who is working on a novel vertical system that can be fully automated without the need for harvesting because the plant is sold in the growing container.
"It has the potential to be economically viable for growing lettuce, leafy greens, and herbs," he stated of his vertical farming technique.
CEOforLIFE – We promote life. We support the SDGs.