"An industry/company innovation map indicates the existing demand (known or unknown) that the company has about innovation. So, the question would be, what are the company needs and what areas of improvement does it has to gain in competitiveness? 
When we talk about innovation, we are more used to listen the offer (what startups or research groups says) than the demand (what companies are looking for). An Innovation map produces a demand from the industry and, therefore, a driving force of the need towards the offer. This being the case, the construction of the ecosystems and the sum of the actors that give value to them will evidently be easier, as investors and money to accelerate the offer of innovation will follow the traction.
When innovation is analyzed from the offer, what normally happens is that the industry (the one who demands) is forced to modify / adapt its innovation map and, or it resists to the change by ignoring startups; or compete with them, or collaborate through the creation of physical ecosystems (accelerators, creation of corporate ventures, incubators …)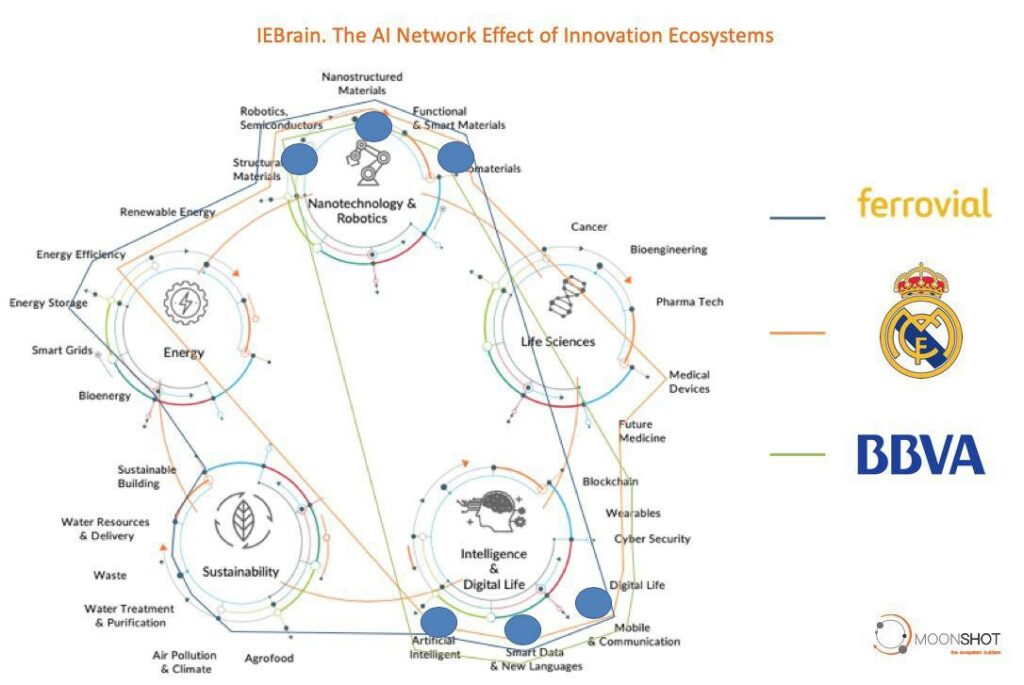 Through Moonshot.ceo's IEBrain tool we've analyzed the innovation maps of three different companies /industries. They are represented in the graph:
1.- BBVA is a Spanish industry bank "Fintech, Financial & Insurance".
2.- Real Madrid belongs to the "Sports" industry
3.- Ferrovial is from the "Construction" industry
To understand the taxonomy of innovation that is traced in each of the maps, you can find more information at https://www.moonshot.ceo/upstream The taxonomy is designed in three levels:
• NODES: Sustainability, Energy, AI and digital life, Life Sciences, and Nanotechnology and Robotics
• CELLS: 28 distinguished innovation areas
• KETS (Key ennable technologies), the technologies that enable disruption and are connected to all industries through millions of variables that our algorithm allows.
With moonshot.ceo we have linked each of these industries with disruptive innovation and has automatically created an innovation map. In colors, a map is drawn up that includes the innovation nodes to which it belongs and the cells where each of these three companies can develop specific projects.
All three maps have matching points that are represented by blue dots. These coincident dots means that any of these companies can call the others to work on innovation projects and syndicate investment projects on startups with other investors. A platform like ours would recommend Startups or research projects to these companies allowing them to work together and evolving interesting disruptive projects. "
CEOforLIFE – We promote life. We support the SDGs.