Scientists have achieved a significant advance toward practical nuclear fusion, putting us closer than ever to ultra-low carbon energy.
The team from Oxford's Joint European Torus (JET) was able to create 59 megajoules of energy via nuclear fusion. According to the UK Atomic Energy Authority, this is more than double the previous record established in 1997. (UKAEA).
The findings are encouraging for supporters of nuclear energy as a clean alternative to fossil fuels.
"As demand mounts to address the consequences of climate change by decarbonizing energy production, this breakthrough is a significant step forward on fusion's roadmap as a safe, efficient, low-carbon way of addressing the global energy issue," the UKAEA said in a statement.
"Today's record findings represent the clearest illustration globally of fusion energy's promise to generate safe and sustainable low-carbon energy."
The discoveries, according to Ian Chapman, CEO of UKAEA, are "landmark" and will bring us "a tremendous step closer" to virtually emission-free energy.
"It is evident that considerable adjustments are required to address the consequences of climate change, and fusion provides enormous promise." according to Chapman.
"We are accumulating information and creating new technologies to provide a low-carbon, sustainable source of baseload electricity that will help safeguard the world for future generations.
"Our planet requires fusion energy," he continues.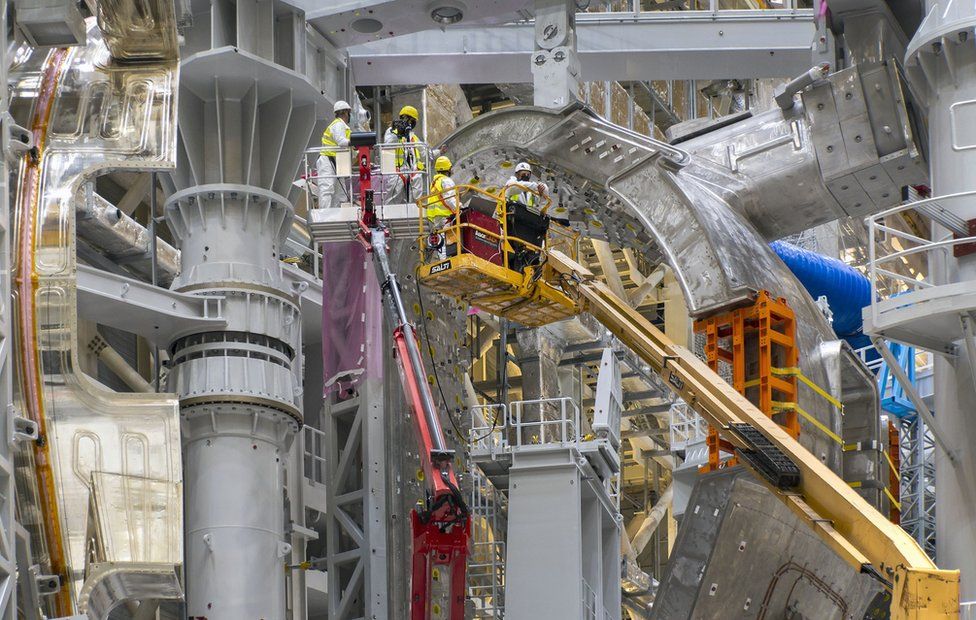 What is the difference between nuclear fission and nuclear fusion?
In the most basic sense, both fission and fusion generate energy from atoms.
Nuclear fission is the current technology used in power plants to break uranium atoms from a hefty, unstable nucleus into two or lighter nuclei.
Nuclear fusion, on the other hand, entails merging two light atoms into a bigger one. The goal of this technique is to replicate what happens in the sun's core.
Nuclear fusion proponents believe it is the energy of the future. The technique generates relatively little waste, which is far less radioactive than trash from a traditional nuclear power station. In addition, fusion produces no greenhouse emissions.
Nuclear fusion could theoretically create four million times the energy of coal, oil, or gas while emitting no hazardous emissions.
How soon could nuclear fusion be used to generate power?
The research is still in its early stages, and today's announcement only reveals the capability of producing fusion energy for five seconds, which is insufficient for the process to be sustainable.
"If we can keep the fusion going for five seconds, we can keep it going for five minutes, and ultimately for five hours," says Tony Donne of the EUROfusion consortium.
The information acquired in Oxford might also be beneficial for the ITER reactor, which is being built in the south of France and is much more advanced than JET.
"Research and innovation here in the UK, in collaboration with our colleagues throughout Europe, are making fusion energy a reality," said George Freeman, parliamentary under-secretary for science.
Is nuclear power really that green?
Many environmental organizations have long been opposed to nuclear power.
Friends of the Earth has been opposed to nuclear power since its inception in 1971.
"We do not support the construction of additional nuclear power plants in the UK," reads a Friends of the Earth UK document.
"The United Kingdom is endowed with vast renewable energy resources such as offshore wind, tidal, and solar." These, according to independent experts, can produce all of the energy we require.
Renewable energy also avoids the issues associated with conventional nuclear generating technology.
Greenpeace makes a similar case for nuclear power, claiming that while it is touted as a solution to our energy woes, it is difficult and enormously expensive to produce.
Both sides contend that the money spent on nuclear power would be better spent on renewable energy sources.
CEOforLIFE – We promote life. We support the SDGs