Morrisons reportedly pledged to be the first supermarket in the world to be entirely supplied by 'net zero' carbon British farms by 2030, five years ahead of the competition.
Morrisons will collaborate with its 3,000 farmers and producers to create affordable net-zero carbon meat, fruit, and vegetables over the next nine years.
Morrisons anticipates that eggs will be the first to achieve net-zero carbon designation as early as 2022, followed by lamb, fruit, vegetables, pig, and beef in the following years.
Agriculture presently contributes to 10% of total UK greenhouse gas emissions, according to the latest analysis, with two-thirds of consumers mitigating the environmental effects of the food they eat. The National Farmers Union has requested farmers to work for a net-zero objective of 2040, while other retailers are aiming for 2035.
Morrisons is well-positioned to achieve this aim five years ahead of the sector since it is the largest retail buyer in British farming. Morrisons has its own Livestock and Produce Teams, works directly with farmers, and transports meat, fruit, and vegetables straight from fields to its 20 fruit, vegetable, and meat processing centres.
Morrisons will begin working with a group of meat and produce producers this month to develop net-zero carbon farm 'models'.  Together with the farmers, they will examine the emissions pattern for farm produce during its whole lifespan, from germination to leaving the farmgate for a Morrisons shop. Once a practical blueprint is built, the models will be distributed among all Morrisons farms, allowing all food to be produced in this net zero carbon manner.
The farm models will aim at decreasing carbon through raising diverse animal breeds, utilising low food-mile feedstuffs, employing renewable energy and low-emission housing, and minimising fuel and fertiliser consumption. They will also try to reduce carbon emissions by sowing grassland and clover, as well as recovering peatland.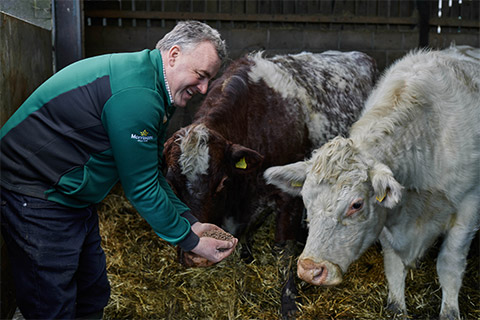 Beef ranching is the most carbon-intensive in agriculture, emitting 45 per cent of carbon emissions for just 5% of products sold. Methane generated by livestock accounts for about half of this. Morrisons will also work with its beef farms to employ smaller cow breeds, select low methane diets, and investigate methane lowering additives (e.g. seaweed).
Morrisons will also collaborate with colleges, veterinarians, agricultural and rural organisations, and carbon specialists as part of the scheme. Morrisons will collaborate with the NFU to share farmer expertise, with Natural England on planting and water usage, and with industry professionals to collect and analyse data. Morrisons will also collaborate with Harper Adams University, which specialises in agricultural and environmental studies, to develop new products.
Morrisons CEO David Potts stated, "Climate change is one of our generation's most pressing concerns, and food production is a major contributor to greenhouse gas emissions. As the largest supermarket client in British farming, we are in a unique position to assist our farmers and help drive reforms in environmental standards. It's years ahead of industry expectations – and an ambitious goal – but it's our responsibility to meet it."
"The UK is the first major economy to legislate for net-zero emissions by 2050," stated Environment Secretary George Eustice MP. Our farmers will be critical in attaining this goal. It is good to see Morrisons commit to sourcing from net-zero carbon British farms in such a short timeframe, so helping to safeguard the environment.
"British agriculture has a critical role to play in the nation's quest to net zero," said Minette Batters, President of the National Union of Farmers. Our commitment encompasses three action pillars: emissions reduction, carbon storage on farming, renewables and the bioeconomy. Our members are already contributing to the NFU's goal of attaining net-zero agriculture by 2040, and they want to do more. I admire Morrisons' dedication and look forward to continuing our productive collaboration."
"Morrisons has demonstrated great leadership in establishing demanding objectives for carbon reductions and pushing its suppliers to produce in more sustainable ways," said Patrick Holden, Chief Executive of the Sustainable Food Trust.
Morrisons is carbon neutral. The agriculture objective is part of the UK's strategy to achieve net-zero emissions by 2040, in accordance with the worldwide Paris Agreement. A crucial component of this initiative is reducing carbon in the primary food supply.
CEOforLIFE – We promote life. We support the SDGs