To achieve its goal of net-zero emissions, Orica will:
Continue to lower its operational footprint by focusing on scope 1 and 2 operational emissions reductions through the use of tertiary catalyst abatement technologies, procuring renewable energy, and optimizing energy efficiency and industrial processes.
Collaborate with its suppliers: As new and emerging technologies scale and become commercial, Orica will work with suppliers to obtain lower emissions intensity ammonium nitrate (AN) and ammonia to reduce scope 3 emissions, which account for around 70% of overall scope 3 emissions.
Prioritize low-carbon solutions, including the development of low-carbon AN as well as new goods, services, and technology offerings to assist customers in achieving their own sustainability goals; and
Report progress: openly reveal performance in accordance with the Task Force on Climate-Related Financial Disclosure guidelines.
Sanjeev Gandhi, Managing Director and Chief Executive Officer of Orica, stated, "Our target of net zero emissions by 2050 demonstrates our commitment to playing a role in reaching the Paris Agreement goals." This is a significant indication that Orica's decarbonization will and must continue beyond 2030, necessitating a coordinated effort from all of our stakeholders.
"We're making good progress, having already achieved a 9% decrease in emissions in FY2020 and more reductions this fiscal year." We've taken our 2030 medium-term goal and extended our planning to the long term, producing a realistic pathway to support our goal of achieving net-zero emissions by 2050.
"Orica is installing tertiary catalytic abatement over the next decade, prioritizing renewable energy sources, and supporting a trial of carbon capture, utilization, and storage technology." Beyond 2030, how we achieve our goals will be determined by successful global policy frameworks, supporting legislation and financial incentives, and access to new and developing commercial-scale technologies.
"Orica is a corporation with a long history of technological innovation, and we are already assisting our clients in improving mine site safety, productivity, and efficiency." We will follow the same approach by introducing low-emissions technology at our main production locations and collaborating with our worldwide suppliers and stakeholders to reduce our supply chain's impact."
Taking Climate Change Action
Orica has already launched a number of efforts to accelerate progress toward its medium-term goal and support its 2050 net-zero emissions objective.
By replacing and improving the performance of selective catalyst abatement technologies, Orica's Bontang AN manufacturing facility in Indonesia recorded a 43%6 reduction in net emissions in FY2020, and its Kooragang Island nitrates manufacturing plant in Australia achieved a 6.3%7 reduction in net emissions.
This year, Orica's Carseland AN production plant in Canada commissioned tertiary catalyst abatement technology in collaboration with the Alberta Government, decreasing emissions by about 83,000 tCO2e per year. Orica has committed around $45 million in capital over the next five years to implement comparable tertiary abatement equipment throughout its Australian ammonium nitrate plants, which may result in a 750,000 tCO2e reduction per year.
As a founding member of the Australian Industry Energy Transitions Initiative, Orica is dedicated to forging a road to decarbonization via practical action and engagement with government, industry, customers, and civil society.
More information on the ambition statement, Orica's emissions reduction measures, and decarbonization strategy and roadmap will be included in the Annual Reporting Suite, which will be released in November 2021.
The ambition statement of Orica
In addition to our promise to cut operational greenhouse gas (GHG) emissions by at least 40% by 2030, we have also established a goal of achieving net-zero emissions by 2050. Our net-zero emissions goal includes worldwide scope 1 and scope 2 GHG emissions within our direct control, as well as material* scope 3 GHG emission sources. We will work with our suppliers and customers to support decarbonization technologies. Achieving this goal would need efficient government policy frameworks, supporting legislation and financial incentives, as well as access to innovative low-carbon commercial-scale technology.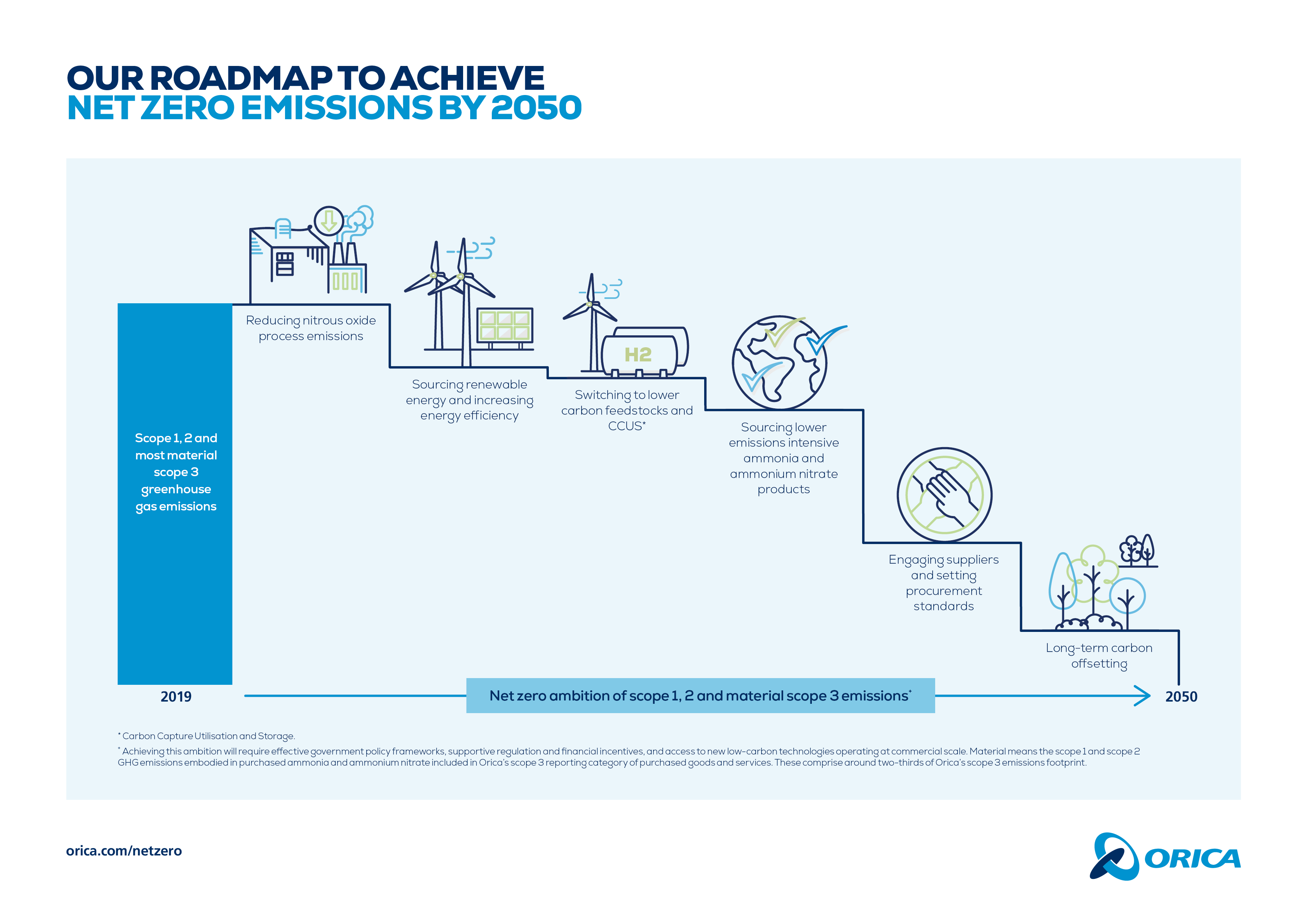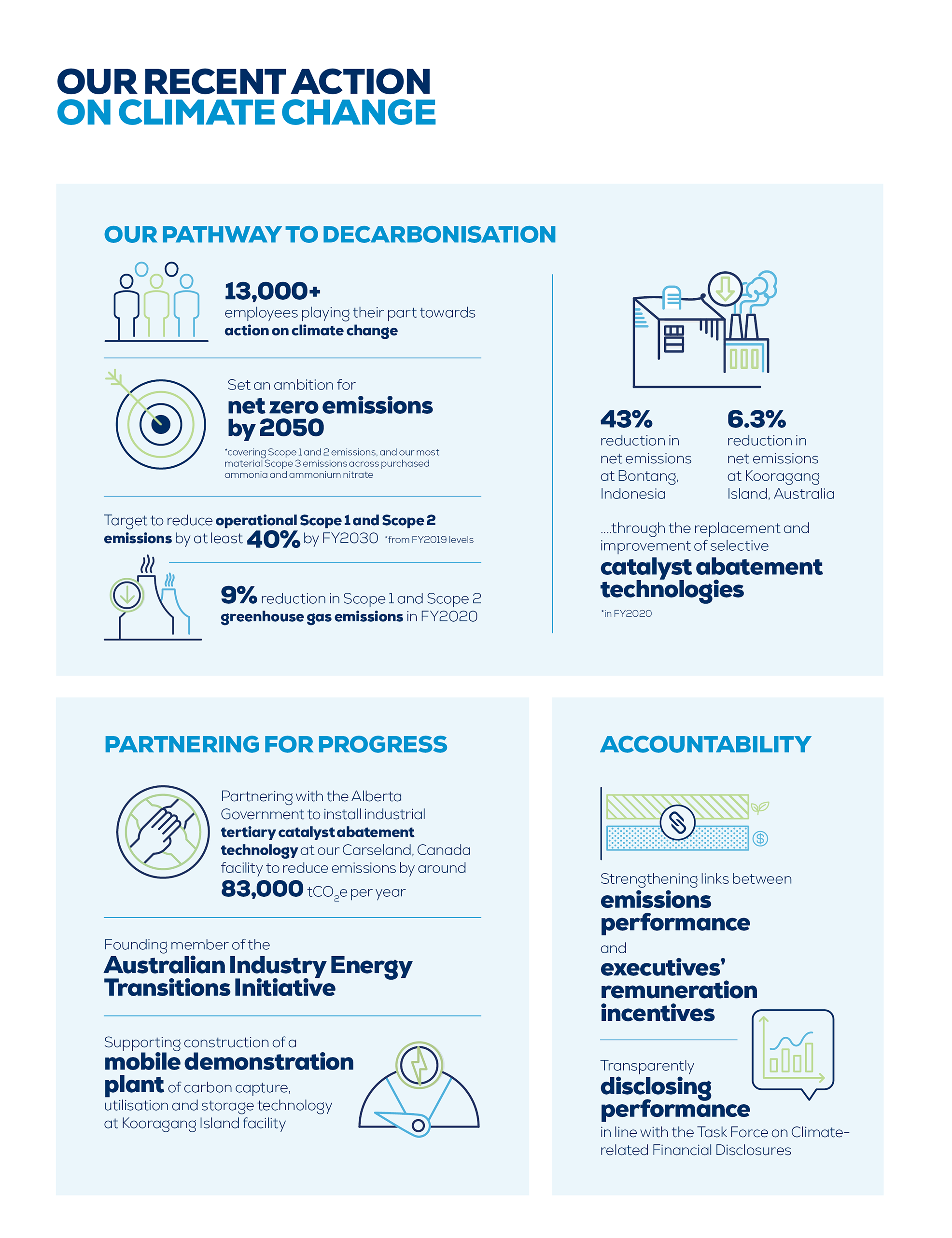 CEOforLIFE – We promote life. We support the SDGs.