The $37 million Kooragang Island Decarbonisation Project will install proven nitrous oxide greenhouse gas (GHG) emissions tertiary abatement technology at Orica's Kooragang Island plant beginning in 2022, with commissioning in 2023, to accelerate Orica's progress toward meeting its 2030 emissions reduction target.
The New South Wales Government's Net Zero Industry and Innovation Program will provide $13.06 million to the project, which will be financed by a 5-year loan facility granted by the Federal Government's Clean Energy Finance Corporation. The project has also been authorized by the Clean Energy Regulator to generate Australian Carbon Credit Units (ACCUs).
The tertiary catalyst abatement method, which is viewed as a long-term help for emissions reduction in high-pressure nitric acid producing facilities, uses catalytic breakdown to remove nitrous oxide emissions. The principal source of GHG emissions at the Kooragang Island facility is nitrous oxide, which is produced as a byproduct of nitric acid synthesis.
The technology will be deployed across all three nitric acid manufacturing units used in the production of ammonium nitrate on Kooragang Island, and it is expected to reduce CO2 emissions by at least 567,000 tCO2e per year. Based on the predicted output, it is estimated to lower the site's overall emissions by 48% and produce a cumulative emissions reduction of at least 4.7 MtCO2e by 2030.
Sanjeev Gandhi, Managing Director and Chief Executive Officer of Orica, remarked on the crucial role collaboration and partnerships would play in decarbonizing difficult-to-abate sectors, saying:
The Kooragang Island Decarbonisation Project is a remarkable example of public-private collaboration for decarbonization, and it represents an important step toward meeting our medium-term 2030 emissions reduction objectives and progressing toward our net-zero ambition. We are dedicated to collaborating with our stakeholders to develop a path toward a lower-carbon future.
"With the assistance of the New South Wales and Federal Governments, we were able to co-invest and go forward with a large decarbonization project."
"The Kooragang Island Decarbonisation Project will contribute to the Government's aim of decreasing NSW emissions by 50% by 2030," stated New South Wales Treasurer and Minister for Energy and Environment Matt Kean. The project is estimated to reduce cumulative emissions by 567,000 tonnes of CO2 per year, giving considerable decarbonization benefits within a decade.
"This is an excellent illustration of what can be accomplished by difficult-to-abate businesses moving to net zero emissions under our $750 million Net Zero Industry and Innovation Program, which was announced earlier this year."
Mr. Gandhi summarised the reciprocal advantages, saying, "The initiative guarantees our local manufacturing activities stay competitive in a low carbon economy, providing considerable environmental, economic, and social benefits to the region."
"There are additional advantages for our clients; by lowering the emissions intensity of our ammonium nitrate, we are able to provide competitive and lower-carbon intensity ammonium nitrate products, assisting them in meeting their sustainability goals."
"It also allows us to consider longer-term investments in technology, such as hydrogen generation from renewable energy."
The Clean Energy Regulator allowed the Kooragang Island Decarbonisation Project to participate in Australia's carbon market in March 2021. Orica is qualified to generate ACCUs and was granted the Australian Government's first optional Carbon Abatement Contract under the Facility Method for the purchase of approximately 3.4 million ACCUs. By managing ACCU price risk, this approach has increased investor confidence.
Orica knows that successful decarbonization demands a collaborative approach as Australia's leading Mining Equipment, Technology, and Services supplier and a vital stakeholder in the Australian manufacturing industry, a notoriously difficult-to-abate sector. Orica, a founding member of the Australian Industry Energy Transition Initiative (Industry ETI), is collaborating with a wide range of stakeholders, including government, industry, customers, and civil society, to speed a route to decarbonization via proven, measurable action.
By 2022, the technology is scheduled to be implemented in the first nitric acid factory. The findings of the Kooragang Island Decarbonisation Project will be used as a significant case study in the Australian industry, highlighting the potential for tertiary catalyst abatement technology to be used more extensively across the sector.
Orica recently collaborated with the Alberta Government in Canada to commission a comparable tertiary catalyst abatement technology at its Carseland ammonium nitrate production facility, decreasing emissions by about 83,000 tCO2e per year. Orica has also committed $45 million in capital over the next five years to implement comparable tertiary abatement technologies throughout its Australian ammonium nitrate locations, including the Kooragang Island plant.
Orica's annual reporting package will include statistics on GHG emissions and performance against goals. Orica's 2021 annual reporting package will be released at the end of November 2021, including a Climate Action Report consistent with the Taskforce on Climate-related Financial Disclosures guidelines.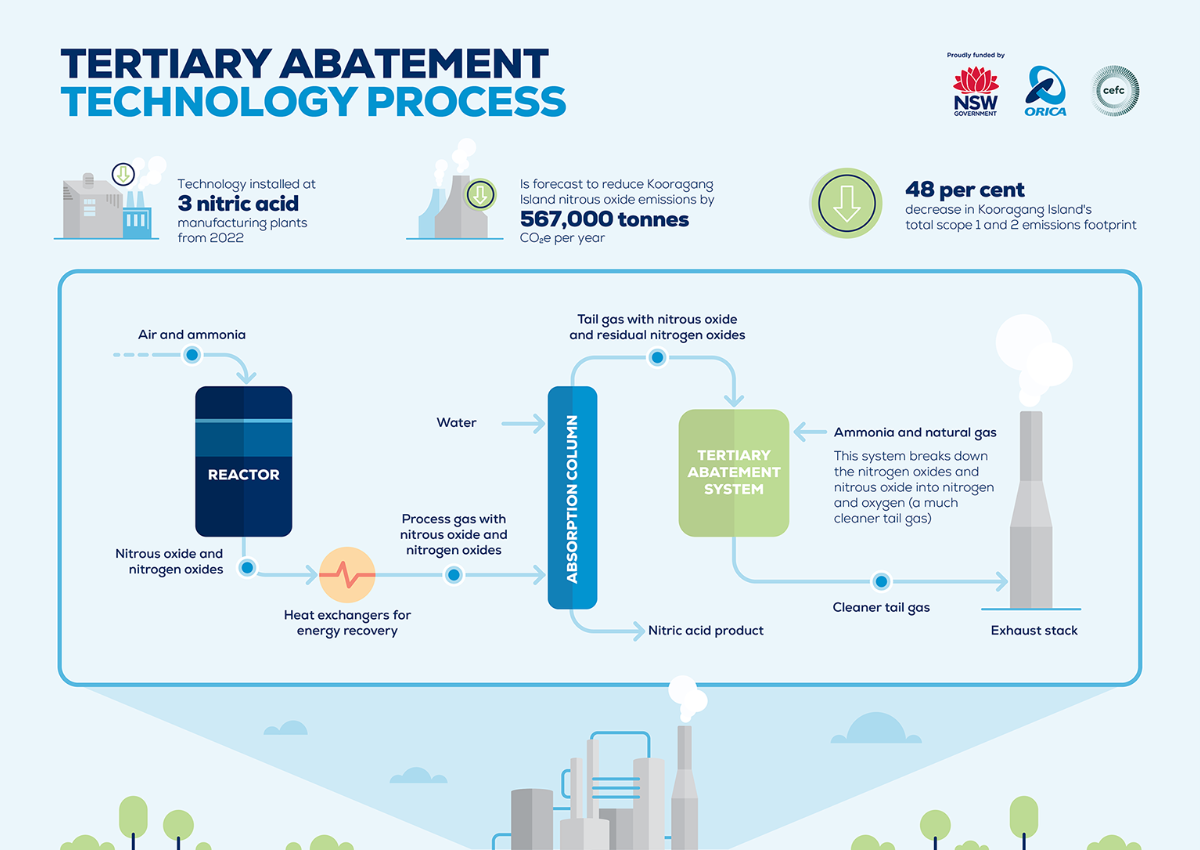 CEOforLIFE – We promote life. We support the SDGs.