"With its mission of a low carbon future, SCB pledges to reach net zero GHGs from direct operations as soon as possible and by 2030 at the latest. In the meantime, SCB has set an interim target to become carbon-neutral immediately by prioritizing direct emissions reductions and by using offsets for any residual hard-to-eliminate emissions sources.
SCB commits to reducing its scope 1, 2, and 3 emissions as much as possible and to compensate or neutralize any residual, hard-to-eliminate emissions by the end of 2021 and from then onwards.
Due to SCB's operations, the majority of emissions associated with its business are either directly or indirectly generated by its offices and staff, or, avoided and offset by its clients through the services it offers. Three out of five SCB offices are generated by renewable electricity and have adopted energy efficiencies. Its goal is to have all five offices on renewable energy packages before 2030. Through SCB's global transactions, more than 400 million metric tonnes of CO2 have been abated.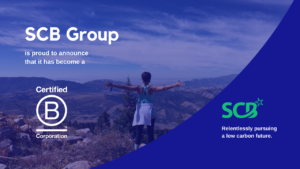 "We are proud to commit to Net Zero by 2030. As more technological options become available to decarbonize our electricity and heating consumption, our travel, and other emissions-generating activities, SCB will further concentrate its efforts on direct emissions reductions over offsetting", said Kevin McGeeney, CEO of SCB.

"I am delighted to see SCB accelerating its decarbonisation journey in line with the Paris agreement, the latest science from the IPCC and ahead of COP26. As an enabler of low carbon markets, it is gratifying to see SCB leading by example, by applying in its own operations the tools and mechanisms it helps its clients with." Carlota Garcia-Manas, Non-Executive Director at SCB's Board and Chair of its Sustainability Committee.
Along with its net zero ambition, SCB supports the TCFD recommendations, the Taskforce for Voluntary Carbon Markets and Chapter Zero towards a more positive future. It has also earned the ISO 14001 certification and has become a Certified B Corporation".
CEOforLIFE – We promote life. We support the SDGs.