Ryse Energy is a successful wind power provider to the telecom sector, where few other turbine vendors have made inroads. TowerXchange speaks with Managing Director Alistair Munro about how Ryse Energy has made wind power work in Latin America, how it interacts with new and existing sites, and the savings made available by incorporating wind power into a hybridised power system.
TowerXchange: Ryse Energy was formed out of a few different firms, what can you tell us about the firm's history and origins?
Alistair Munro, Managing Director, Ryse Energy:
My experience is in large-scale international power and water projects, but in the 2000s I became involved with certain power projects in Africa where it became clear that centralised electricity wasn't working. Because of shortcomings in distribution, transmission, and funding of large-scale electricity, distributed generation had to be the answer. Ryse Energy has developed to become a distributed generation expert over the last five years through a succession of acquisitions of firms and intellectual property. Ryse Energy was formed in 2019 by the merger of the several member entities. Each firm was successful in its own right, but by combining each company's key competencies, Ryse now provides more than the sum of its parts.
Ryse Energy is more than just a wind turbine manufacturer. Yes, we make wind turbines, but we also believe in distributed energy. Our key competency and market entry strategy is wind, but we also provide energy management skills, lithium-ion storage, and solar hybrid power solutions. The telecommunications business is an important aspect of our expansion plan. Introducing our tried-and-true technology into new markets.
We have 400 telecom apps installations. These are typically 3-5kW devices, both on and off tower, and hybridised with solar and battery storage. We collaborate with Vodafone in Spain, as well as Telefonica in Spain, Chile, and Argentina. Wind appears to be more established in the Latin world than in the Anglophone world; they appear to comprehend the efficiencies provided by the technology and perceive the superior results that a wind, solar, battery hybrid system can give by lowering the quantity of fuel required. Even work we completed for MTN in South Africa were handled by a Spanish contractor.
TowerXchange: Briefly introduce your solution for telecom energy, and tell our audience what makes your solution different.
Alistair Munro, Managing Director, Ryse Energy:
When we first started looking at distributed power for the telecom business, the statistics were mind-boggling. According to the GSMA's 2014 study "The Global Telecom Tower ESCO Market," total spend on diesel at cell sites is estimated to be US$19 billion, with renewable hybrid systems potentially saving the sector more over $13 billion per year.
That provides you with a large target to pursue because there are millions of installation chances.
Our approach is aimed at the off-grid and bad-grid sectors, where billions of dollars of fuel are wasted. The capex for these locations is minimal since diesel gensets are inexpensive, but the opex is quite high. You are charged not just for the diesel consumed, but also for pilferage, maintenance, and fuel supply. Renewables are increasingly seen as the future and a feasible alternative to damaging diesel in terms of affordability, resilience, and sustainability.
Because the capital cost of solar is falling so rapidly, it has quickly become the technology of choice; because it is the simple choice. However, due to the solar cycle, you will only be able to create power for 8-10 hours per day, and there is also the issue of footprint, where brownfield locations lack the area for solar PV arrays, and land costs near new urban greenfield sites may make it uneconomical.
The main benefit of wind power over solar is its longer production period, which allows you to shrink your on-site battery storage or have longer autonomy.
Because solar and wind are complimentary energy sources, the strengths of each may balance the entire system, generating a more steady supply of electricity and lowering diesel fuel usage to a bare minimum.
Another option is to increase the value of your telecom asset by hosting a productive piece of power equipment. In the case of a 5-10kW installation, opex might range between US$1,300 and $1,500 per month. On our completely hybridised sites, this is reduced to US$150.
I would also add that where I live in the UK, there is a lot of wind but also a lot of problematic grid locations. As a result, this isn't only for emerging markets.
TowerXchange: Wind energy for telecoms has yet to take off like solar or energy storage, what do you think has held it back so far?
Alistair Munro, Managing Director, Ryse Energy:
It's a more technical method. If you are searching for tower installation, you must consider specific structural elements. It is easier in greenfield installations, but in brownfield installations, you must consider tower characteristics as well as how the turbine will interact with other assets that have already been built.
I also feel that in the past, low-cost, low-quality little wind turbines burned bridges for people like us who are currently leading the way in the hybrid renewables industry. These businesses have since failed in the market. However, with our established and innovative small wind turbines and over 4000 installations in the sector, we anticipate telecoms to be an important market for small wind turbines.
Furthermore, there is a misunderstanding about O&M.
Our Ryse Energy compact wind turbine technology require very little operation and maintenance. Our technology is built to be simple to install and interchange replacement parts. Some of our turbines have been in operation for more than 30 years, indicating that they are constructed to last.
Looking ahead, economics will be the driving force behind the entry of wind into the telecoms industry; when people perceive the economic benefits, they will accept it.
TowerXchange: Your solution is already live in Spain, Argentina, Chile and South Africa; what can you tell us about the financing of your solution versus a typical energy set up?
Alistair Munro, Managing Director, Ryse Energy:
If you can recoup your ownership costs in 2-3 years, you've made a solid investment.
We believe that the telecom business is a very bankable industry, thus an off-balance-sheet strategy may be the ideal method to introduce a new technology. These assets are extremely fundable since we already have 4,000 locations live throughout the world and there is little technological risk. We now have over 400 telecom installations, so we believe towercos will see the value. Because their business model already involves financing capex, ESCOs, our other main market in telecoms, will want to consider the advantage of the technical solution. Because of the lower opex with our solution, they will see a 2-3 year payback and be interested in investing.
TowerXchange: You have experience in developed and developing markets; how your solution versioned for the different circumstances on the ground?
Alistair Munro, Managing Director, Ryse Energy:
There isn't much of a distinction between systems for established and emerging markets.
In emerging countries where the number of new tower installations is high, we want to incorporate our solution into the initial tower design, so the turbine is included from the start. This lowers the structure's overall energy cost. We are conducting site testing ahead of large-scale rollouts in select countries in order to encourage its adoption as the conventional strategy.
Because we don't have the number of new installations in more established areas, our approach is slower. The technological answer is similar, but the commercial strategy is different since we must adapt existing locations.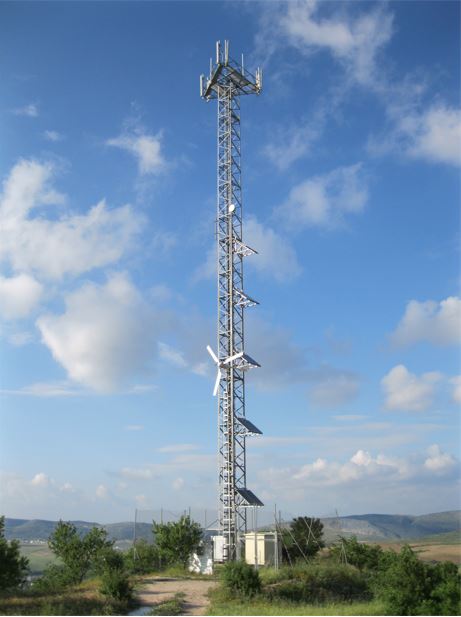 TowerXchange: Total cost of ownership is probably towerco's principal concern, but upfront capex matters too. One thing which has driven solar PV and lithium-ion adoption are major price reductions, is wind following a similar cost curve?
Alistair Munro, Managing Director, Ryse Energy:
Wind turbine prices will fluctuate with volume, but because it is a more developed technology than solar or lithium-ion, it will not see the same price declines. However, the benefits of wind energy and hybridising technology are obvious. Combining solar and wind energy into a hybrid renewable energy system provides several benefits to renewable installations, including:
Reduction in the size of the necessary battery.
Battery life has been extended.
Reduction in the number of solar panels and, as a result, the needed land area.
Reduce reliance on a single renewable energy source, such as the sun or wind.
Reduce your diesel costs dramatically.
Another distinction is that the cost is expressed in terms of production. If you add 10kW of wind capacity and 10kW of solar capacity, the wind turbine will provide more electricity over a longer and more constant operational time.
TowerXchange: How does your solution fit within the typical layout of a cell site?
Alistair Munro, Managing Director, Ryse Energy:
As previously stated, we are now conducting site trials for on and off tower installations with a number of telecoms.
If you have a 40m or 50m tower, you have a good chance to place wind turbines at the top. A decent clean breeze may be obtained at a height of 40m. You multiplex it into the existing tower, presuming it can withstand the additional strain. That is my preferred choice since you maximise the utilisation of the existing asset while minimising capex and footprint. There are some concerns about putting something revolving atop a tower due to vibration, however we have discovered that these fears are unfounded.
If you can't connect to an existing tower, you're still not looking at a big footprint. Foundations of 1 cubic metre can sustain 12-15 metre lattice towers. The choice between on- and off-towered installation will be influenced by tower design and structural loads.
The installation of a turbine on a tower is quite rapid, taking less than 24 hours. The longest delay for a new skyscraper is waiting for the foundations to cure.
TowerXchange: Security and theft are major issues in Africa. How are you able to harden your sites and ensure they are safe and secure?
Alistair Munro, Managing Director, Ryse Energy:
One of the greatest methods to harden a site is to remove or place items that individuals wish to steal out of reach. By avoiding diesel, you limit the motivation and consequences of fuel theft. Putting a turbine on top of a tower also helps safeguard your valuables, especially because a wind turbine is far less appealing to criminals than fuel and batteries.
TowerXchange: Please tell us about the next steps for Ryse Energy and the future role you see for wind in telecom power.
Alistair Munro, Managing Director, Ryse Energy:
We are aggressively marketing the technology and have agreements in place with various carriers for deployments in new areas. We also fill repeat orders from current marketplaces. Our strategy is to persuade telecoms to adopt wind as a critical component of the renewable energy process, since the environmental and economical benefits are obvious.
We have ten field experiments underway in Africa, the Middle East, India, and Southeast Asia, as well as in the United Kingdom, where there is a significant wind resource.
The sector must decarbonize; it cannot continue to burn billions of dollars in fuel each year. This can only be accomplished by utilising renewable technologies that are dependable, robust, sustainable, and cost-effective. We will ensure that wind is used to power the telecoms sector of the future.
CEOforLIFE – We promote life. We support the SDGs.