"Located at the southern tip of the Malay Peninsula, the city-state of Singapore holds a number of records: Its residents enjoy one of the longest life expectancies in the world, its infant mortality rate is one of the lowest, and its internet speed is one of the fastest. In addition, its inhabitants are among the wealthiest in the world – the gross domestic product per capita, adjusted for purchasing power, is around 101,500 US dollars, putting it in third place in the world rankings. Unfortunately, there are also records on the negative side: In terms of C02 emissions per capita, the island state is also high up in relevant rankings – with over 7,500 kilowatt hours per year, its per capita electricity consumption is considerably higher than the average value of around 6,100 kilowatt hours per year in the European Union, which isn't exactly economical, either. The high population and building density in Singapore alone makes it difficult to find locations to generate renewable energies, due to the lack of space.
But the technology-friendly and forward-looking island state has also found a solution – yet another record-breaking one – to this challenge: If there are few suitable areas for solar power plants left on land, why not simply install one at sea: At the end of March 2021, one of the largest floating solar plants in the world was commissioned in the Strait of Johor, which separates Singapore from Malaysia.
More than 13,000 floating solar panels
The installation consists of over 13,000 individual photovoltaic panels mounted on more than 30,000 floats, plus 40 inverters and a 22-kilovolt transformer. A special mooring system withstands heavy seas, and a separate, second floating platform serves as a control and visitor center with a viewing terrace. The mooring also ensures that the plant doesn't drift off into the Strait of Johor, where there is heavy shipping traffic.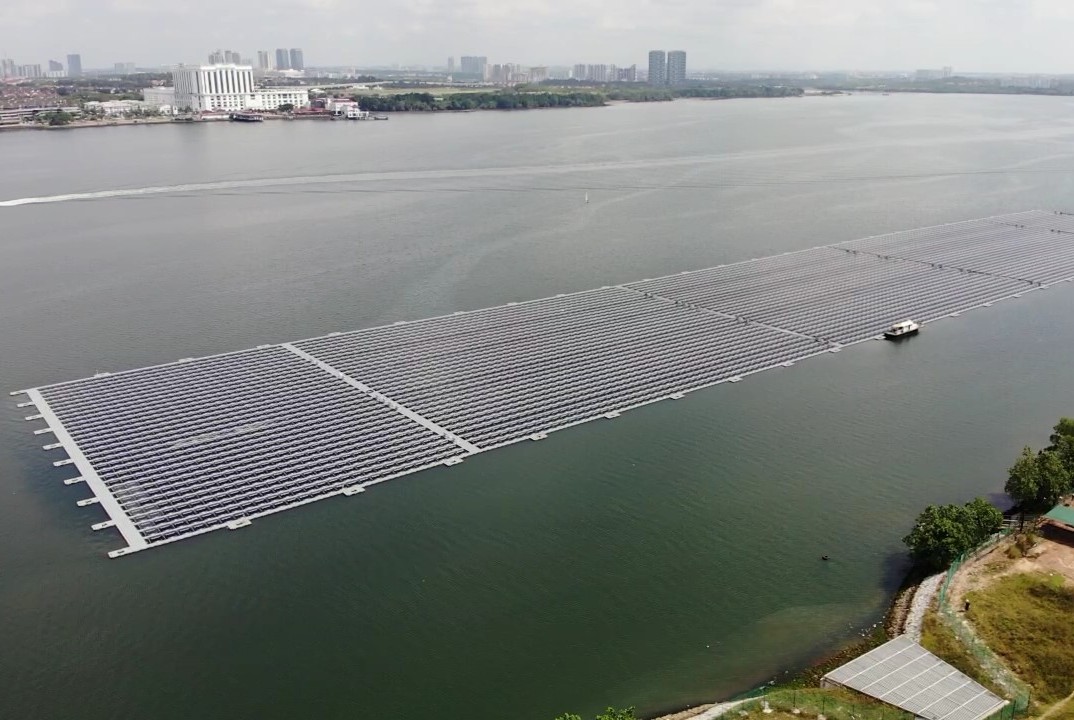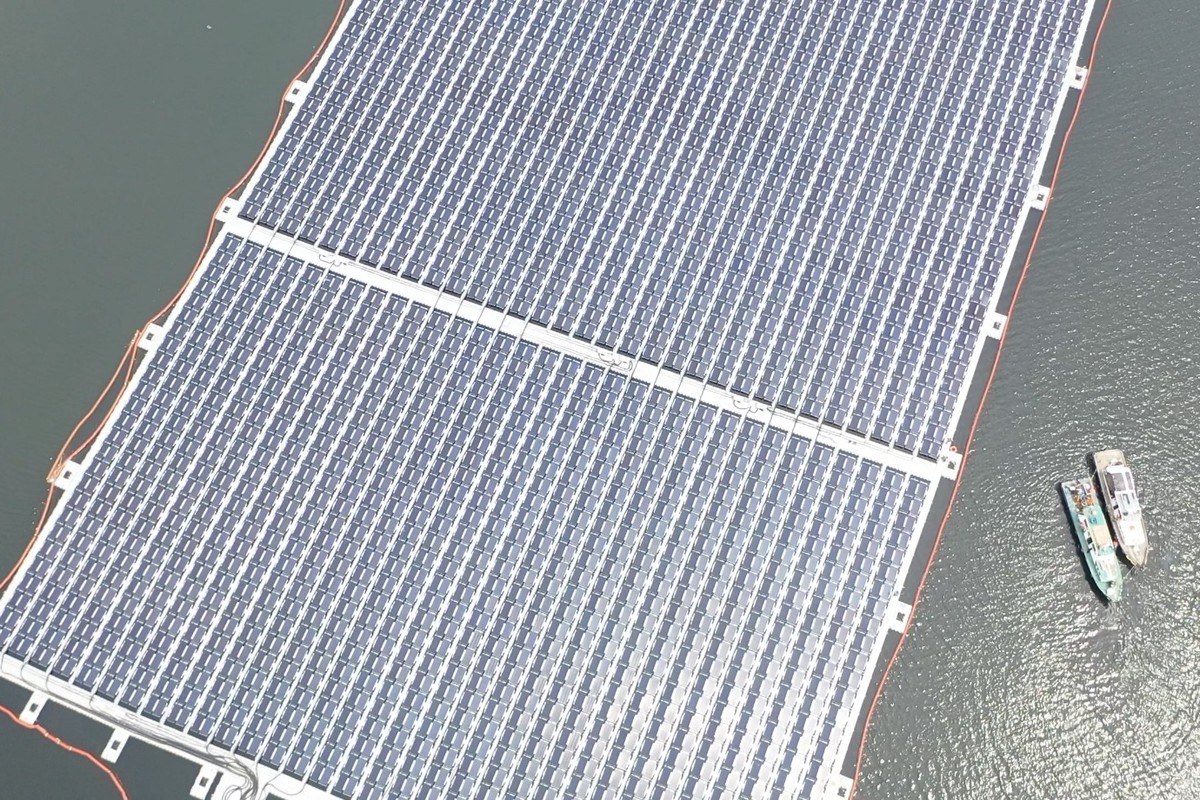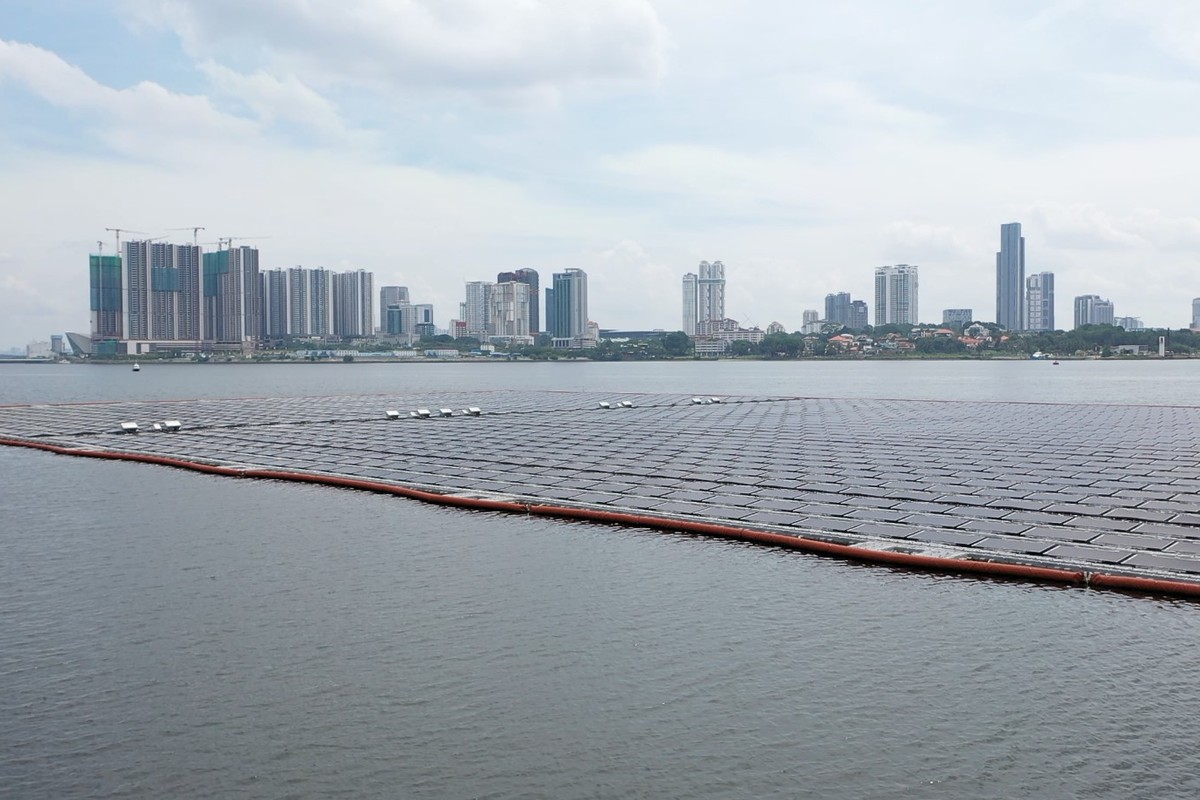 The floating power plant delivers around five megawatts of peak output. The electricity it generates is transported to shore via an undersea cable and is expected to supply around 1,400 households with electricity. According to the operator, Singapore-based energy company Sunseap, the plant is expected to produce over six million kilowatt hours per year, which corresponds to a reduction in CO2 emissions of over 4,200 tons per year.
In addition to the clever solution to the space problem in this densely populated region, Sunseap CEO Frank Phuan cites other advantages of the design: The solar modules get less dirty at sea than on land and the risk of vandalism or theft is practically zero.
The next, even much larger plant is already in the works
Yet the newly operational plant is just the beginning. The Singapore government has already announced plans to quadruple the share of solar energy in the country's total energy generation by 2025. By 2030, around 350,000 households shall be supplied with solar power. Among other things, further floating solar power plants are in the works – such as a 60-megawatt plant on the Tengeh reservoir, which is located in the western part of the city-state and also plays an important role in its drinking water supply. This plant will comprise more than 122,000 solar panels on an area of about 45 soccer fields.
"Singapore is an ideal testing ground for floating solar power plants," confirms Jacky Bai, General Manager Solar Business at DEKRA Asia Pacific. His team offers a broad portfolio of testing and certification services related to solar panels – for example, material examinations, corrosion and aging tests, safety tests, and electrical and electronic tests of photovoltaic modules and their connections. The test catalogs also include testing and certification of other components such as inverters, as well as verification of compliance with all relevant standards and norms, electromagnetic compatibility tests, or checks on the actual performance of the modules and their environmental compatibility. In addition, DEKRA offers technical advice on production processes, quality management, and occupational safety for all aspects of solar systems. These services are aimed equally at the manufacturers of such solutions as well as their commercial users – such as power plant operators.
The company is also already preparing to test the increasingly popular floating solar systems. "Here, many aspects are brought together that we're already testing individually," reports Jacky Bai: "For example, material properties, mechanical and structural load-bearing capacity, corrosion resistance, and a whole range of test criteria relating to the use of power plants." By 2022, the company wants to have expanded its portfolio of services so that DEKRA can also test and certify the trending floating solar power plants. The city-state of Singapore will then have plenty to do for DEKRA Asia Pacific employees".
CEOforLIFE – We promote life. We support the SDGs.