After the pandemic made a huge impact on the tourism sector, concerns about sustainability have become more vocal. Younger travellers are emphasising sustainability, choosing greener flights to offset their carbon impact and seeking bags made of eco-friendly materials.
This increased awareness prompted Samsonite, a multinational luggage maker and retailer, to introduce a biodegradable, eco-friendly baggage line.
"We took a different approach to sustainability in the early years. We decided to create goods that are long-lasting, durable for customers, and enable product repairability, which implies less replacement in the market and a lower environmental effect," Jai Krishnan, CEO India, Samsonite South Asia, told Business Insider India.
As the company's perspective on sustainability shifted, it has recently introduced a new line of baggage priced between $18,500 and $23,100. It was created in partnership with Quality Circular Polymers (QCP), a SUEZ and LyondellBasell plastics recycling joint venture.
"Plastic mineral water bottles have been changed into the outside of the hard-side bags and utilised in the lining of baggage," Krishnan explained.
Its huge magnum green baggage is made from 483 yoghurt cups and 14 plastic bottles worth of recycled plastic rubbish.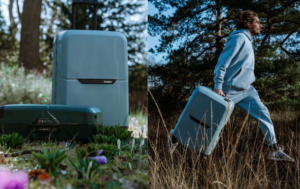 Consumers choose greener travel alternatives
One of the most polluting businesses is travel. Consumers, on the other hand, are making a concerted effort to adopt greener travel choices.
According to a Booking.com survey, 91% of Indian travellers desire to travel more responsibly, and 68% claimed that recent climate change news has inspired them to make more sustainable travel choices.
"Our customers are highly conscious of their carbon footprint. As they travel more frequently, many Samsonite customers are on the aircraft for many days of the year, and they are conscious that every time they travel, they leave an imprint," added Krishnan.
Krishnan stated that consumers expect global industry leaders like Samsonite to assist them in being responsible, which provides them confidence in witnessing robust consumer demand.
"Consumers want global leaders to do it [lead the change], which is why we expect the business component to expand as the number of consumers who are becoming more conscious of their influence on the earth grows. The younger generation, in particular, is increasingly concerned about the environment. What Samsonite is doing today, everyone will have to do someday. But we're not doing it for profit; we're doing it for the earth," Krishnan told Business Insider India.
The premium luggage market
According to Krishnan, India's whole baggage business is worth around 20,000 crores, with 60-70% of it being unbranded. The luxury baggage industry has only managed to secure a 10% share, with Samsonite accounting for 5% of this pie.
As travel demand increased, Samsonite observed an increase in sales across all categories.
"Every segment of the travel bag industry is expanding. In the first half of 2022, we increased by 110%. That's because Indians are eager to travel, and the boom will last for a long time," added Krishnan.
This year, consumers are travelling and taking advantage of the chance.
"Because of wedding-related travel, students have resumed travelling outside and inside India — they've begun to move from smaller places to larger ones. Working from home is becoming less popular. In the last six months, so many triggers have all worked together that there has been a significant surge in the business," said Krishnan.
This increase in travel is not just due to the holiday season. Across seasons, sales have increased.
"Previously, there was a lot more seasonality. The previous seven and a half months have been so outstanding that every month is a new record," Krishnan told Business Insider India.
While Krishnan anticipates a spike in October and November, he claims that the peaks have been higher in the past. Consumers are now travelling all year long.
Samsonite plans to invest Rs 250 crore in expanding its storage and warehouse capabilities.
Samsonite has increased its storage capacity and facilities to meet this rising demand.
"We're boosting capacity once more. In 2020, we will open a new large plant in Nashik, Maharashtra. In the next two or two and a half years, we will invest roughly 250 crores in the factory itself," Krishnan added.
By January 2024, it plans to construct ten machines and eight assembly lines.
CEOforLIFE – We promote life. We support the SDGs