At a global event themed "Conference of the People" in September, sports brand PUMA will address answers to some of the fashion industry's most serious sustainability concerns, such as waste, materials, and climate change. Cara Delevingne, an actress, model, and activist, will co-host the event with PUMA CEO Bjrn Gulden and PUMA CSO Anne-Laure Descours.
HERZOGENAURACH, Germany – At a worldwide event in September, sports brand PUMA will evaluate solutions to some of the fashion industry's most serious sustainability concerns, including waste, materials, and climate change.
Conference of the People, which will take place in London on September 6 and will be streamed globally, will highlight PUMA's industry peers, activists, NGOs, experts, ambassadors, and consumers who will discuss tackling waste, using more sustainable materials, stopping climate change, protecting forests, and finding ways for the industry to collaborate to achieve results sooner.
"We will focus on Gen Z during this event because we want to offer this generation a voice in the decisions that need to be made now to design a more sustainable future," stated PUMA CEO Bjrn Gulden. "What the UN calls the Conference of the Parties, we call the Conference of the People."
PUMA launched the portal PUMACOP.com ahead of the event, where attendees may learn more about the event and register their desire to attend. This portal will also stream the event live.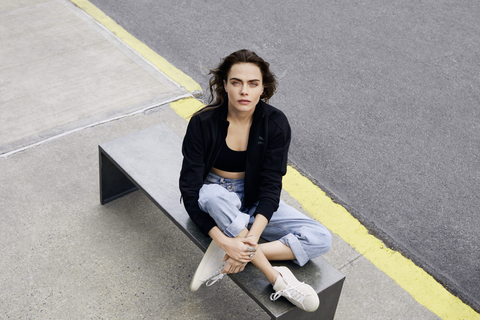 "I've worked on sustainability concerns with PUMA for several years, and together we've produced more sustainable collections like Exhale," Cara Delevingne added. "It is critical to keep the conversation going on this topic so that we may discover answers to environmental concerns like climate change, waste management, and biodiversity."
For many years, becoming more sustainable as a company has been a key component of PUMA's strategy. Earlier this year, the brand reported that it has decreased its carbon emissions, including the usage of renewable energy certificates, from both its own operations (-88%) and its supplier chain (-12%) between 2017 and 2021, despite substantial sales growth over the same period. PUMA plans to use more sustainable materials in nine out of ten of its goods by 2025.
According to the most recent evaluation by Business of Fashion, which examined the 30 major firms in the fashion sector, the company was the most sustainable brand in the industry.
The People's Conference will begin on September 6 at 12 pm BST (1 pm CET, 7 am ET) in Shoreditch, London for 225 invited guests. The event's livestream is accessible to the general public.
CEOforLIFE – We promote life. We support the SDGs