Energy experts believe the Abu Dhabi National Oil Company's (ADNOC) plan to power its facilities with solar and nuclear energy beginning next year is "groundbreaking," but more data is required to fully comprehend the impact on emissions. ADNOC, which exports over 3 million barrels of oil per day, has inked a supply agreement with the Emirates Water and Electricity Company (EWEC) to deliver 100 percent of its grid electricity from nuclear and solar energy beginning in January 2022. "With this historic clean energy agreement with EWEC, ADNOC will become the first major oil and gas firm to decarbonize its electricity on a large scale," stated Sultan Al Jaber, Managing Director and Group CEO of ADNOC.
Despite the lack of details on how it will function, industry analysts applauded the idea, which will leverage the UAE's regional leadership in nuclear and solar power development. "Several international oil firms have committed to net zero operating emissions." "This is fairly innovative in terms of achieving zero carbon power across a whole portfolio," said Robin Mills, CEO of Qamar Energy, an energy consultant located in the United Arab Emirates.
"I estimate that this might save 7-9 Mt (million metric tonnes) of CO2 emissions each year." "Perhaps more if applied to downstream industries," Mills stated. The report comes at a time when big oil is facing increased investor criticism over its climate goals. Companies such as ADNOC and Saudi Aramco have unveiled climate measures only days before the COP26, while also investing to enhance oil output in the future years.
A critical step
While the ADNOC-EWEC collaboration was important, it did not explain how the clean power agreement would be executed or provide exact information on the amount of emissions it was projected to save. "Ahead of COP26, ADNOC wants to highlight progress on decreasing emissions and decarbonizing its oil and gas activities," Ben Cahill, Senior Fellow at the Center for Strategic and International Studies, told CNBC. "If ADNOC provided hard statistics, this declaration would be more relevant," Cahill remarked. Cahill stated that further information was required to determine how its "Scope 1" and "Scope 2" emissions — two main categories of emissions created by a company's own activities and in its wider value chain — would be impacted. "As they flesh out their sustainability strategies," Cahill said, "they'll have to provide more data."
So-called "Scope 3" emissions, which are subject to confusing reporting rules across the sector and are by far the most polluting, continue to be the most difficult for the industry as a whole to handle. BP, the British oil company, stated aims to achieve net zero emissions throughout its activities "absolutely" by 2050 or sooner. TotalEnergies, a French company, likewise intends to reduce Scope 1 and 2 emissions by achieving net zero for global operations by 2050. Aramco, Saudi Arabia's state-owned oil company, wants to be carbon-neutral by 2050.
ADNOC has committed to reducing greenhouse gas emissions intensity by 25% by 2030. According to the corporation, Murban, its flagship crude grade, already has a carbon intensity less than half that of the industry average, and that figure will increase as a result of the deal. "It also directly supports our goal of remaining one of the lowest carbon intensity operators in the oil and gas industry, and demonstrates how hydrocarbons, clean energy, and advanced energy sources can complement each other in the energy transition," said Al Jaber, who also serves as Minister of Industry and Advanced Technology and the UAE's special envoy for climate change.
ADNOC's plan to "decarbonize" its power infrastructure reflects a movement inside the UAE to improve its environmental credentials, after it became the first Gulf state to pledge to eradicating carbon emissions by 2050. "The world continues to require oil and gas, and strong initiatives like these are crucial to decarbonizing our business," the OPEC Secretariat said in a statement following the news.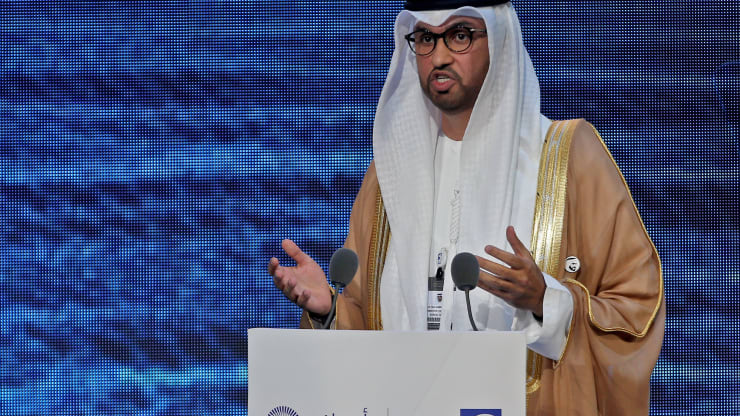 UAE's Minister of State and CEO of the Abu Dhabi National Oil Company Sultan al-Jaber speaks during the opening ceremony of the Abu Dhabi International Petroleum Exhibition and Conference in Abu Dhabi.
CEOforLIFE – We promote life. We support the SDGs.