Vulcan aspires to be the world's first lithium producer with zero net greenhouse gas emissions. Its ZERO CARBON LITHIUMTM Project in Germany aims to generate battery-quality lithium hydroxide chemical products from its combined geothermal energy and lithium deposit, Europe's biggest lithium resource.
The announcement comes on the heels of VUL becoming a member of the Global Battery Alliance (GBA), an umbrella collaboration of 70 companies seeking to create a globally sustainable battery value chain.
The GBA adheres to 10 guiding principles that address concerns ranging from the cyclical recovery of battery materials to assuring transparency of greenhouse gas emissions and their progressive decrease, as well as the abolition of child and forced labour.
VUL is committed to driving systemic change and will be involved in projects and activities centred on battery material traceability and transparency that will affect the industry.
Being accredited by Climate Active adds legitimacy to VUL's mission.
Climate Active is a collaboration between the Australian Government and businesses in Australia to encourage voluntary climate action.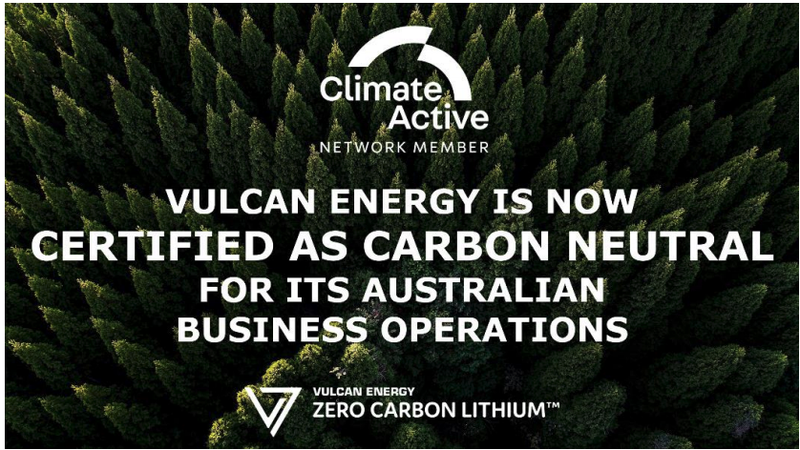 Vulcan has joined the Climate Active Network, a network of organisations and corporations leading voluntary climate change action.
"Setting future "net zero" objectives by enterprises across the world is a step in the right direction, but at Vulcan, we are happy to be leading the charge, by being recognised as carbon neutral here and now," stated VUL Managing Director Dr. Francis Wedin.
"While we are constructing our ZERO CARBON LITHIUMTM Project to produce lithium for the battery industry with net zero greenhouse gas emissions, it is critical that we also be Carbon Neutral while we are developing." Vulcan is happy to be a member of the Climate Active Network and an Australian Carbon Neutral enterprise."
Vulcan is pursuing similar approval for its activities in the European Union.
CEOforLIFE – We promote life. We support the SDGs.