The European Parliament endorsed a fee on carbon-intensive items imported into Europe on February 5, 2021, and asked the European Commission to adopt a "carbon border adjustment mechanism" (CBAM) as soon as feasible.
This is because foreign partners' lack of intention might jeopardise Europe's attempts to achieve carbon neutrality by 2050.
This would imply the possibility of carbon leakage. This happens when corporations shift manufacturing to or source products from nations with laxer emission regulations. Global emissions would not be lowered in this instance.
This newly implemented CBAM mechanism will reduce this risk by imposing a carbon price on some commodities imported from outside the EU.
According to a European committee, the CBAM should encompass all imports, but as a starting point, it should cover the electricity sector and energy-intensive industrial sectors such as cement, steel, chemicals, and fertilisers by 2023.
The fee will be connected to a revamped emissions trading programme (ETS), with the proceeds going toward EU and international climate goals.
What does this mean for lithium? According to EU Commissioner Thierry Breton, "we are completely reliant on lithium chemical imports." Lithium would fall under the CBAM's "chemicals" category.
Prior to Volkswagen Power Day, it was predicted that Europe will require about 500,000t of lithium chemicals by 2030 to supply the raw materials for its planned 500GWh lithium-ion battery production capacity.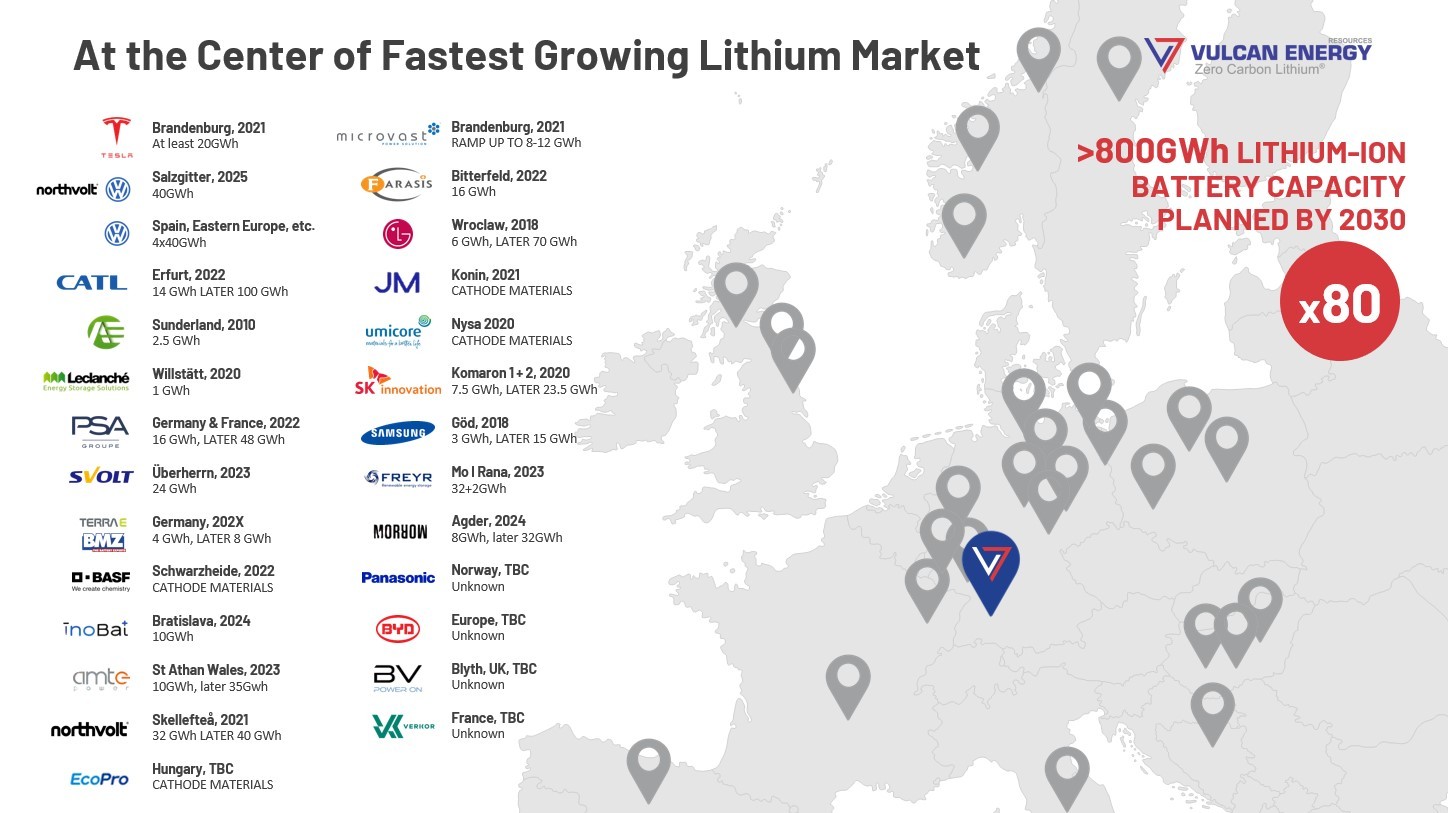 Volkswagen said at its Power Day that it will develop six giga-factories of 40GWh each (two of which were previously considered into the prediction), bringing Europe's total battery capacity to more than 700GWh. The quantity of lithium compounds required to meet the demand of this expanding industry sector in Europe alone is more than 700,000 tonnes per year, which is more than twice the amount produced globally currently. There is no indigenous manufacture of lithium compounds in Europe.
Because the bulk of participants want to create long-range batteries with high nickel content, demand for lithium hydroxide will likely account for the lion's share of the European lithium industry.

China now supplies more than 80% of the world's lithium hydroxide supply. China's lithium chemistry industry is thought to be the most polluting in the world. According to a Life Cycle Analysis conducted by the London-based consultancy business Minviro, every tonne of lithium hydroxide produced in China emits 15 tonnes of CO2.
With such an emission profile, the lithium extraction process is worse than nickel, copper, or cobalt mining.
Despite the fact that a number of firms are actively attempting to reduce carbon emissions associated with lithium manufacturing, there is still an urgent need to do more. Most stakeholders, including lithium players, are pressuring them to reform, including:
Automobile manufacturers and battery manufacturers intend to achieve carbon neutrality in the near future.
Regulators such as the European Commission and its new Battery Regulation are putting pressure on manufacturers to change their sourcing strategy, and
Investors who are diversifying away from carbon-intensive businesses.
In Europe, several lithium projects are under development, notably Vulcan Energy Resources' zero-carbon lithium extraction from geothermal brine in Germany. However, programmes like as Vulcan's Zero Carbon LithiumTM Project will not be ready for commercial production until 2024.
As a result, European lithium customers will continue to get carbon-heavy lithium goods from China until they have the option of buying domestically and sustainably.
Even though the contents and methods have yet to be finalised, the EU will begin implementing the CBAM as early as 2023. This might significantly increase the cost of importing lithium compounds from China.
According to Bloomberg, the Bank of England cautioned banks and companies in January 2021 that carbon prices may quadruple to $100 per tonne, and that costs could potentially surpass $100 if the transition to a low-carbon economy is sudden or lumpy.
To analyse the possible impact on imported lithium pricing, we must first make a few plausible assumptions.
In our scenario, we suppose that a European client intends to purchase one tonne of lithium hydroxide from China in 2025, and that the Chinese producer continues to emit 15 tonnes of CO2 per tonne of lithium hydroxide. We also assume that the CBAM is in place with rigorous CO2 neutrality aims and that carbon prices are at the Bank of England's target of $100 per tonne.
In this example, the buyer would be charged an extra $1,500 per tonne of lithium to account for the CBAM, which would represent a 14 percent price premium above today's LME pricing of $10,500 per tonne of lithium hydroxide announced by Fastmarkets.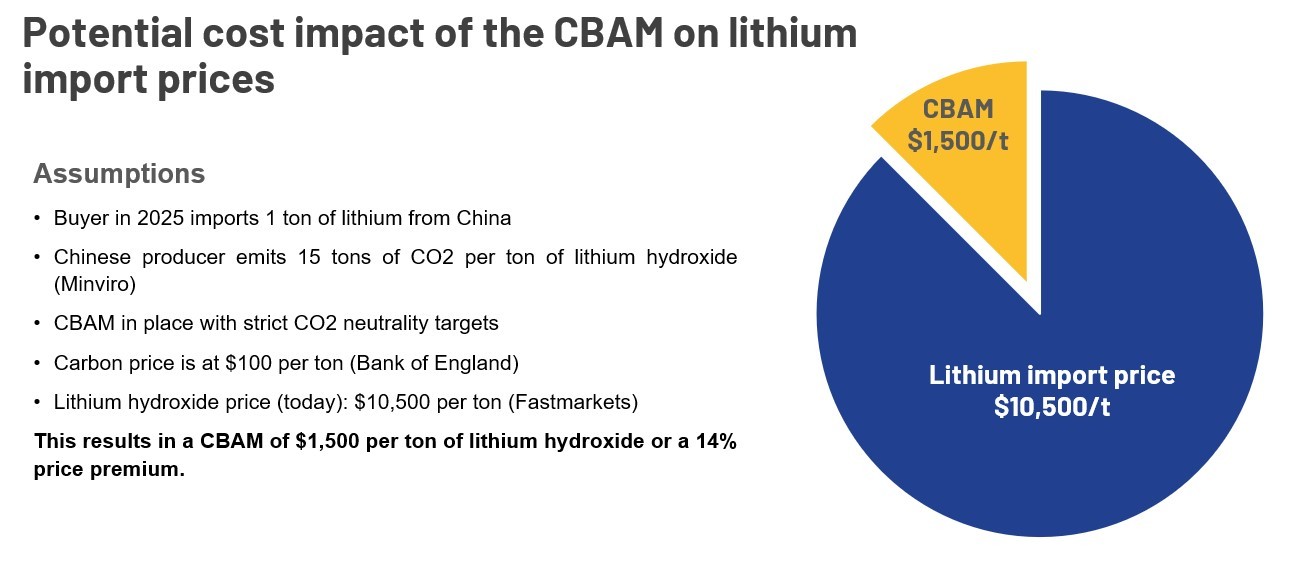 According to the preceding example, this would have considerable cost implications for a customer of the magnitude of Volkswagen. According to recent claims, Volkswagen may need more than 200,000 tonnes of lithium compounds per year alone for its European production locations by 2030. Including the aforesaid assumptions in our forecasts would result in an extra annual expenditure of $300 million to pay the CBAM for lithium.
It is still too early to determine how significantly EU legislation would affect costs for European lithium customers, but there is obviously a strong incentive to push the entire sector toward carbon neutrality, and those that do not adapt will have to pay a premium for it.
CEOforLIFE – We promote life. We support the SDGs.