Bain & Company, a global management consulting business, has proclaimed its aim to achieve net-negative carbon status this year and to maintain the target annually from now on.
To reach its objective of eliminating more than 100 per cent of its scope 1, 2, and 3 carbon emissions, the company will prioritise programmes that eliminate carbon from the environment, such as reforestation, over those that simply seek to prevent future emissions.
Bain & Company has long been a climate action pioneer, claiming to become the first firm to attain 100 per cent CarbonNeutral designation in 2011, more than a decade ago. Since then, the firm's office energy conservation initiatives and turn to 100 per cent renewable electricity have resulted in a nearly 85 per cent reduction in scope 1 and 2 emissions, with scope 1 referring to directly-generated emissions and scope 2 referring to indirect emissions from purchased electricity.
The firm has also been working on Scope 3 emissions, which are those resulting from activities farther down the supply chain, with the consulting industry being a notoriously renowned offender when it comes to business travel.
In return, Bain pledged last year to reduce its travel emissions by 35% per employee over the next five years. As demonstrated during the epidemic, the firm now recognises that it can continue successfully counsel by utilising remote working technologies.
"To have a genuine influence in the global battle against climate change, businesses must lead the way and consistently go beyond the current quo," said Manny Maceda, global managing partner. "After spearheading our industry in carbon neutrality for more than a decade, we asked ourselves how we might take our commitment to the next level." We are taking this brave next step because it is the right thing to do for our people, clients, and communities."
In terms of reducing its own footprint, Bain pledged $1.1 billion in pro bono consulting over ten years in 2015, which includes support for non-profits working on critical environmental challenges, and last year launched 'Further,' an integrated suite of ESG capabilities with 2,500 employees actively involved.
According to the firm, its experts have worked on more than 600 client projects dealing with sustainability and emissions in the last two years.
"Our customers are confronting rising and often fundamental expectations surrounding sustainability, social impact, diversity, equity, and inclusion," said François Faelli, a Brussels-based partner who was chosen as Bain's first global managing partner for ESG in February (environment, social and governance). "By working together, we can build new catalysts for corporate growth and exciting prospects for employees, as well as have a revolutionary influence on society."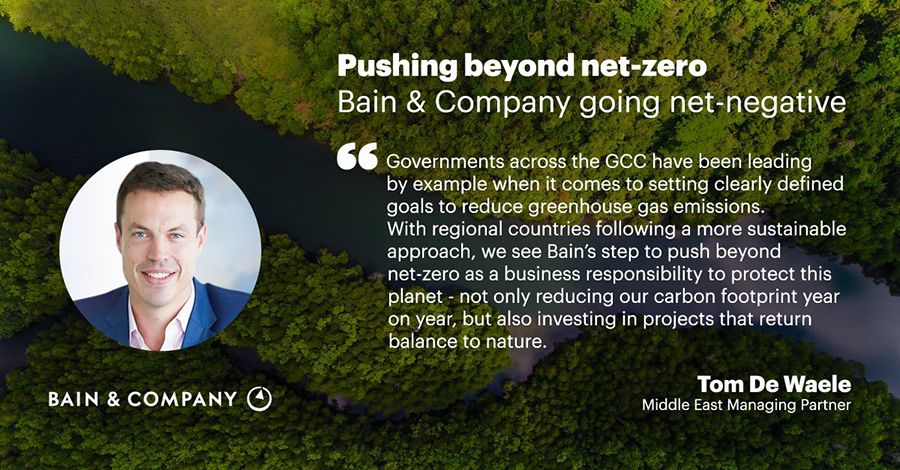 Bain & Company Middle East managing partner Tom De Waele commented on the commitment, saying, "Governments throughout the GCC have been leading by example when it comes to setting clearly defined objectives to decrease greenhouse gas emissions." With regional countries taking a more sustainable approach, we consider Bain's initiative to go beyond net-zero as a business obligation to safeguard the globe."
Meanwhile, in a recent interview, Australia-based Bain partners Karsten Fruechtl and Brian Murphy referred to "sustainable" as the "new digital" due to its fast upheaval of established businesses while growing consumer demand and bringing up prospects for capital accumulation. As a result, they feel that the digital revolution, as well as the use of digital, may teach us a lot about sustainability.
CEOforLIFE – We promote life. We support the SDGs